Gioteck releases the MX-1 Micro Media Remote in the US. Super slick, uber slim, intelligent design in one tiny package.
Control your PS3 Blu-Ray, DVD Movies & Cross Media Bar with the roll of a thumb. Each function has been thoughtfully positioned onto the dual rings to coincide with the way our brain would expect them to be. No clutter, no superfluous functionality, purely intelligent design.
With a length of only 4 inches and a depth of just over a quarter of an inch, it takes pride of place in any modern day living space.
Its instinctive control system is designed around the rotation of the thumb, Play, Pause, Fast Forward, Chapter Skip etc are right where you would expect them to be. With short and long press options, only two rings and a center button are required to access all the functionality of the remote.
This is an ideal companion to Gioteck's upcoming In2Link module system as the In2link hub utilizes a built-in widescreen infra red receiver, eliminating the need for extra IR dongles.
MSRP: £14.99. Available at Amazon.co.uk.
Features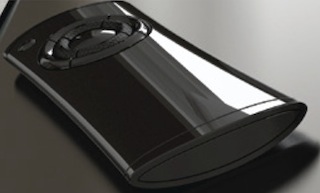 Super Slick, Uber Slim – with a length of only 100mm and a depth of less than 10mm.
Power Conscious – Utilizing only minimum power technology and keeping power consumption low enough to use a standard 'watch' battery.
Uncomplicated Ease – Ergonomically designed around the rotation of your thumb, Play, Pause, Up, Down, Fast Forward, Chapter Skip etc, all there right where you would expect them to be, thoughtfully layered onto two control rings.
About Gioteck
Gioteck designs, manufactures and distributes highly desirable video games accessories, following a strict form following function ethos and a passion for console gaming. Based in the UK, Gioteck has representation in the US, and close links with manufacturing partners in Asia. Utilising the core values of desirability, sociability and integrity in all areas of our business the company has experienced unparalleled success since it's formation in 2007 and aims to be one of the top three 3rd party accessory companies within 3 years.