Ready-for-anything, GD8000 computer boots cold, runs fast and hits the dirt without losing performance or data
The new GD8000 notebook computer by General Dynamics Itronix is now available for military personnel, field service workers and first responders who require high-performance computing while working in extreme temperatures, humidity, dust and rain-soaked environments.
"Our customers told us that to perform their mission-critical duties, they needed a notebook that was more rugged, had longer battery run-time and was equipped with a display they could see in all lighting conditions. We responded by producing the GD8000, a unit with the industry's best drop protection, rain resistance, battery run-time and display viewability," said John Schneider, business unit director for General Dynamics Itronix.
Engineered to operate in extreme conditions, the GD8000 kept working after multiple 42-inch drops onto a hard surface, operated in the rain for more than four hours and successfully booted-up in freezing and scorching temperatures. Powered by the Intel low-voltage Core2Duo processing architecture, the GD8000 is housed in a user-friendly, ergonomic casing with a 13.3-inch DynaVue touchscreen display. The GD8000 delivers uncompromising performance from command centers, to helicopters, to tactical vehicles and everywhere in between.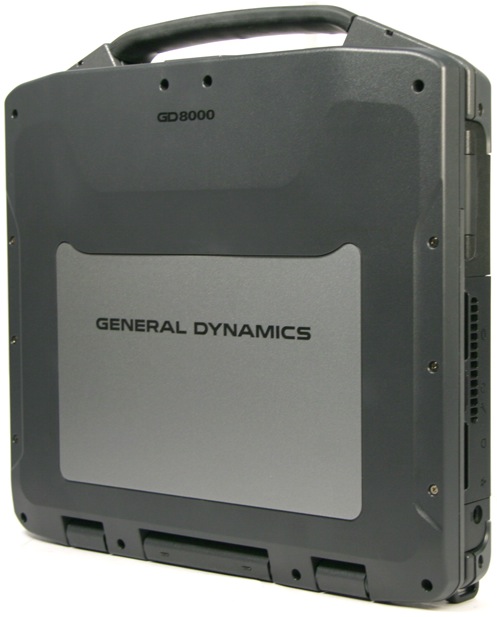 GD8000 specifications overview
Magnesium chassis and impact absorbing polycarbonate casing
Hazardous Location Class 1 Division 2 (UL 1604)
Operating temperature from -22 degrees F to 140 degrees F
Meets MIL-STD 810F including:
Drop test from 42 inches onto plywood over concrete; 26 drops/1 unit
Watertight – 30 gallons of water blown at 40 mph over 4 hours while the unit is operating
GD8000 features
13.3″ DynaVue touchscreen display for outdoor/direct sunlight viewability
Intel Core™ 2 Duo SL9400 processor, 120 GB hard-drive, 4 GB memory (DDR III)
Intel Graphics Media Accelerator 4500MHD
Ergonomic design, weighs 7.9 pounds fully-equipped
Optional backlit keyboard
Integrated Gobi 2000 WWAN ready
10-hour battery life
Integrated GPS and wireless connectivity with Wi-Fi (WLAN), optional high-powered WLAN and Bluetooth
Fingerprint reader, Smartcard
Trusted Platform Module (TPM) 1.2 and optional embedded Computrace software
EnergyStar and EPEAT™ certified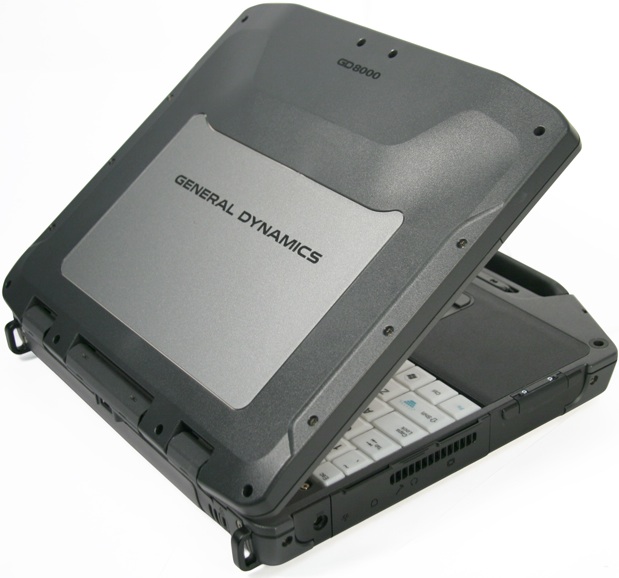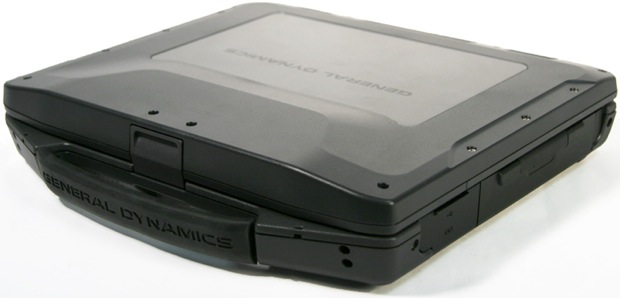 General Dynamics Itronix is a leading developer of wireless, rugged computing solutions for mobile workers, offering a full range of field computing systems including laptops, ultra mobile notebook PCs and tablet PCs. The company is part of General Dynamics C4 Systems, a business unit of General Dynamics (NYSE: GD).