Offers Extraordinary Sonic Dimension
Genelec Inc. offers the compact 6020A two-way active speaker and 5050A active subwoofer, advancing playback standards in this speaker size category. The 6020A/5050A Play System combination delivers a high impact listening experience in a variety of applications including intimate home theaters, multi-media/gaming rooms and smaller surround sound environments.
The Genelec 6020A — a "little" speaker with a "big" attitude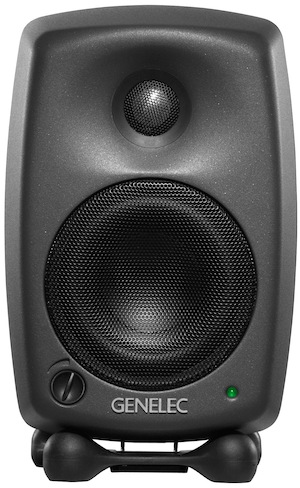 The Genelec 6020A bi-amplified active speaker is one of the smallest Genelec speakers to date. All forms of distortion have been minimized in its design, which features Genelec's proprietary die-cast aluminum Minimum Diffraction Enclosure™ (MDE™) technology. The imaging accuracy and low frequency extension achieved with such an extremely compact enclosure are completely unique. Employing Genelec's innovative Directivity Control Waveguide™ (DCW™) the 6020A has an amazingly flat on- and off-axis response, while its long, curved reflex port ends in a wide flare for excellent bass articulation.
The 6020A incorporates a 4″ bass driver along with a 3/4″ metal dome tweeter loaded into a Genelec DCW. The free field frequency response is 66 Hz to 20 kHz (± 2.5 dB). Maximum peak SPL output per pair with music material is 105dB at 1 m. The woofer and tweeter are each powered by 20 Watt amplifiers.
The Genelec 5050A Active Subwoofer — the perfect companion
The new Genelec 5050A Active subwoofer is the ideal partner to the 6020A, supplying a powerful, 3-channel bass-managed, wide bandwidth subwoofer solution for both stereo and surround sound applications. The 5050A subwoofer is equipped with one active magnetically shielded 8″ driver, mounted on the front side of a compact cabinet, and two 8″ passive radiators, one on each side of the cabinet. A 70-Watt amplifier unit is integrated into the 5050A and the unit has a frequency response from 26 Hz to 120 Hz (± 3 dB). The 5050A also has the ability to deliver a short-term sine wave of > 99 dB SPL and like all Genelec active subwoofers, the 5050A features extremely low distortion. In addition, XLR and RCA line level input connectors (with input sensitivity) provide easy connection to all types of decoders, and a Link Out connector allows coupling of two or more subwoofers together when higher sound pressure levels are required.
The Genelec 6020A/5050A Play System is the perfect compact yet powerful solution for stereo or surround reproduction.