Surround sound speaker system designed for your bedroom or conference room
Gefen today announced the GTV-CR-5SP wall-mountable, five speaker system is now shipping. The GefenTV Conference Room Speakers are ideally matched to the GefenTV Home Theater Audio Processor's speaker binding posts, offering powerful sound quality for small to mid-sized rooms. Each two-way speaker offers a ported design with built-in wall mountable capability. Speakers are sleek, attractively packaged, engineered for fine quality sound and tuned specifically for the Home Theater Audio Processor. Their elegant finish is designed to match any decor. Together, these two products supply excellent surround sound in bedrooms, dens, dorms and small conference rooms.
The GefenTV CR-5SP speaker system consists of 5 exquisitely designed and tuned surround speakers which perfectly compliment the small confines of a bedroom or conference room. The GTV-CR-5SP speakers have been designed for high-quality audio fidelity rather than booming bass and high volume output. These speakers feature handsome exterior construction and will fit stylishly in a variety of decors. They come ready for wall mounting.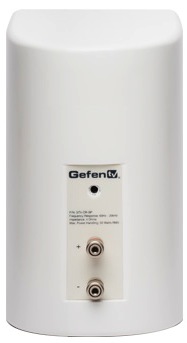 The GTV-CR-5SP speakers are perfectly suited to work with any audio amplifier, especially the GefenTV Audio Processor, for which they were designed.
How It Works
Simply connect the GTV-CR-5SP speakers to an audio amplifier. The GTV-CR-5SP speakers are equipped with 5-way binding posts having connectors as follows: bare wire, spade lug connectors, pin connectors, and two types of banana plugs (single and dual).
Once all AV system connections are established, set the amplifier's volume to a low level, turn on all connected AV equipment, and then increase speaker output volume to a comfortable level.
Features:
5-speaker surround audio from carefully designed and tuned speakers
Incredibly pristine sound from a compact design
Designed to fill small rooms with high-quality sound
Speaker baffle naturally tilts upward on flat surfaces
Specifications:
Low Frequency Driver: 1 X 100mm With 25mm Voice Coil, Ferrite Motor and Cone
Low Frequency Driver: Pulp Paper Coating Black & Surround Nbr Rubber
High Frequency Driver: 1x 25mm With Neodymium Motor & Silk Dome
High Frequency Driver: Frequency Response: (-3db) 75Hz @ 18kHz
High Frequency Driver: Frequency Response: (-10db) 60Hz @ 20kHz
High Frequency Driver: Crossover: 2.2kHz @ 2nd Lf And Hf
Rated Maximum SPL (Sound Pressure Level) Average: 99db / Peak 105db
Rated Maximum SPL: Long Term Power 30W / Short Term Power 50W
System Sensitivity: (2.83V@1m) 85db
Nominal Impedance: 4 Ohms
2-way Reflex Enclosure
Medium-Density Fiberboard Enclosure
Plastic Frame Grille With Gray Cloth
Matte White Finish
4 X EPDM Transparent Feet
Dimensions: 6.0″ W x 10″ H x 8.25″ D
MSRP:
GTV-CR-5SP – $999 (five speakers)
GTV-CR-3SP – $599 (three speakers)
GTV-CR-2SP – $399 (two speakers)