Garmin and ASUS to Create Garmin-Asus Line of Co–branded LBS-centric Mobile Phones
Garmin Ltd. (NASDAQ: GRMN) and ASUSTeK Computer Inc. (TAIEX: 2357) today announced a strategic alliance that will leverage the companies' navigation and mobile telephony expertise to design, manufacture and distribute co-branded location-centric mobile phones. Garmin and ASUS have already begun joint development on a diverse mobile phone product line, which will be known as the Garmin-Asus nuvifone™ series. The companies expect to bring to market several Garmin-Asus nuvifone models in 2009, and a new Garmin-Asus nuvifone model will be announced at the Mobile World Congress trade show in Barcelona, Spain, February 16-19, 2009.
"We believe that converged devices are an emerging opportunity," said Dr. Min Kao, chairman and CEO of Garmin Ltd. "This alliance is advantageous to both companies because it allows us to combine our resources and establish a strong foundation from which we will innovate and introduce the world to the benefits of LBS-centric mobile phones. We've been working with ASUS for over one year on the initial nuvifone that was announced in 2008 on the basis of an ODM relationship. Learning from this experience, we concluded that by leveraging and combining our respective industry-leading areas of expertise at a higher level, we will be able not only to significantly expand our product line, but also to shorten our product development time. We believe that through this strategic alliance we are uniquely positioned to deliver the world's best integrated and most compelling GPS-enabled mobile devices."
"This alliance allows ASUS and Garmin to seamlessly combine the strengths of both companies to offer market leading mobile phone solutions that are of the best design and highest quality. ASUS and Garmin both believe strongly in the continuous investment of R&D resources to unfailingly provide leading-edge innovations to people and businesses," said Jonney Shih, CEO of ASUSTeK Computer Inc. "Through this alliance, our companies will continue to develop innovations that simplify life. Our technologies should accommodate our customers, not the other way around. We believe all devices should perform and communicate seamlessly not just anytime and anyplace, but in real time, in real places, and we're confident the nuvifone series will meet this objective."
All Garmin-Asus nuvifone devices will continue the product vision of the original nuvifone and will be LBS-centric devices that seamlessly connect, communicate and navigate. The original Garmin nuvifone that was announced in 2008 will be re-branded as the Garmin-Asus nuvifone G60. The Garmin-Asus nuvifone G60 is expected to be delivered in the first half of 2009, and additional information about the Garmin-Asus nuvifone G60 will be released at the Mobile World Congress trade show.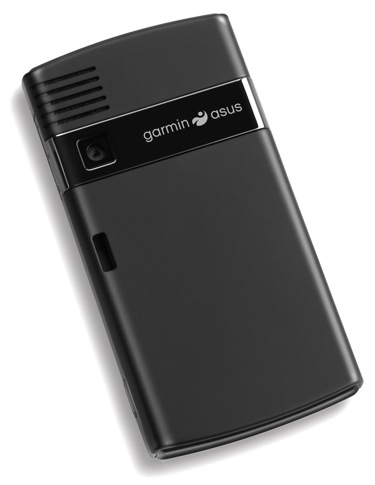 LBS functionality is core to the Garmin-Asus nuvifone series, which will offer the same turn-by-turn, voice-prompted navigation features found on high-end Garmin portable navigation devices (PND). It has preloaded maps and millions of points of interest that allow drivers to quickly find a specific street address, establishment's name or search for a destination by category. In addition, the nuvifone includes quick access to online points of interest through internet enabled local search. The nuvifone harnesses the power of the worldwide web and information about local merchants and attractions is continually updated. The nuvifone also features Ciao!™, a social networking application that bridges the gap between multiple location based social networks and integrates them seamlessly into one device.
Garmin-Asus nuvifone models will be on display at the Garmin-Asus booth at the Mobile World Congress trade show in Barcelona, Spain, February 16-19, 2009 (7C37, hall 7). Additional information is available at www.GarminAsus.com.
About Garmin and ASUS
Garmin is the global leader in satellite navigation, and has sold more than 43 million devices. Currently celebrating its 20th anniversary, Garmin has pioneered navigation and communication devices that enrich people's lives. Garmin's market breadth in the GPS industry is second to none having developed innovative products and established market leadership position in each of the markets it serves, including automotive, aviation, marine, fitness, outdoor recreation and wireless applications. Garmin achieved the worldwide number one spot for mobile navigation devices in 2007 by more than doubling its shipments on 2006 and increasing its market share. According to research conducted by Canalys, a leading independent technology market analyst firm, in the third quarter of 2008 Garmin held 35 percent of the worldwide PND market with an approximately 50 percent share in the U.S. and a 20 percent share in Europe.
Garmin has been on the leading edge of mobile phone navigation having launched several products into the mobile market including Garmin Mobile off-board navigation and Garmin Mobile XT, an on-board navigation solution. First announced in 2005, Garmin Mobile off-board navigation was the first server-based navigation application to visually depict and constantly update the user's position on a detailed moving map. These navigation applications include access to dynamic, location-relevant content like traffic reports, fuel prices, flight status and weather information. Garmin's on-board and off-board navigation solutions have been adopted by numerous mobile phone manufacturers and network operators, and are currently available on over 500 different phone models.
ASUS is a technology leader in the IT industry and offers everything from PC components to complete solutions including notebooks, desktops, smart phones, PDAs, broadband communications products, LCD monitors and wireless applications. ASUS is recognized worldwide for the Eee PC™, an ultramobile PC noted for its combination of light weight and ease of use. In 2007, one in three desktop PCs sold was powered by an ASUS motherboard; and ASUS has been the fastest growing notebook brand for the past eight consecutive quarters, ranking fifth in the world in Q3 2008. The company's 2008 revenues reached $8.2 billion (U.S. dollars). Through its unyielding commitment to innovation and quality, ASUS has won numerous international awards. ASUS has been ranked amongst BusinessWeek's InfoTech 100 for 11 consecutive years, placing ninth in 2008. ASUS has also achieved the number one title in the annual league table of Taiwan Top 10 Global Brands IT Hardware category with a brand value of $1.324 billion (U.S. dollars).
ASUS is a rising contender in the design, manufacture and distribution of mobile phones, and has exclusive intellectual property rights in 3G core technologies. These 3G technologies are paving the way for 4G in the near future. With over 800 employees devoted to R&D and business development for smart phones, ASUS has successfully launched phones in 20 countries with major operators such as Vodafone, O2, Orange and TIM. ASUS' telecom industry footprint has grown significantly since the company introduced its first PDA in 2001 and mobile phone in 2004. Today, ASUS is recognized as one of the top three Windows Mobile brands in Russia and Eastern Europe. With stylish facades and excellent user interfaces, ASUS phones have passed strict design criteria to win the Japanese G-Mark Design and German iF Awards — accolades that position ASUS as a leader in mobile phone design.
Garmin is a registered trademark, and Ciao! and nuvifone are trademarks, of Garmin Ltd. ASUS is a registered trademark and Eee PC is a trademark of ASUSTeK Computer Inc.