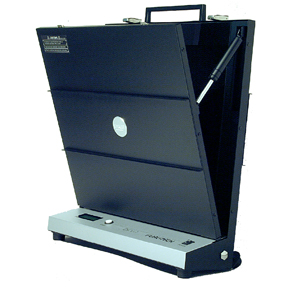 Furutech debuts the ultimate LP flattener, the DFV-1. Every vinyl enthusiast has records in their collection that they wish were a bit less warped. The DFV-1 is the one-stop, one-button solution to your problems! Using a carefully controlled heating and cooling cycle it flatten all your warped records, even those with only slight irregularities that still unsettle your cartridge causing mistracking.
Warps And Listening
Warps are detrimental in every way. If the arm/cartridge remains parallel to the LP's surface as when playing a flat record, VTA (Vertical Tracking Angle) remains unchanged during play. Additionally, as the arm/cartridge tracks a warp on its upside, greater pressure is placed on the stylus which changes VTF (Vertical Tracking Force) until the peak of the warp, whereupon the cartridge "unloads" with too little VTF on the way down the slope of the warp. This muddles the sound, changes the tonal quality, imaging and soundstage characteristics of any cartridge. A flat record tracks better with less distortion.
The DFV-1 takes up little room with its space-saving, vertical design! Improved film heating technology optimizes the entire heating and cooling cycle for a perfectly flat LP that you and your cartridge will love. Just unlock and open the DFV-1, place the LP on the spindle, close and tap a single button. An LCD keeps you informed of progress with a tone sounding when done. Right from the oven to your platter!
DVF-1 Record Flattener – One-Stop, One-Button Solution For Warped Records
MSRP: $1,480.00 — Available: Now
DFV-1 Specifications
Rating: 117V±10% 60Hz AC Line 2A fuse
Energy Consumption: 170W (max) 35W (Norm)
Heating plate max. temp: 65
Size: 480mm/19″ W x 544mm/21.5″ H x 17mm/7″ D
Weight: 11kg/24lbs approx.
Safe Usage Environment: Humidity 20% – 90% (No condensation)
Manufactured for Furutech by ORB High End Systems of Japan
All metal parts treated with Furutech's α Alpha Cryogenic & Demagnetizing Process