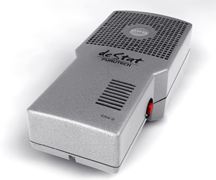 Furutech debuts the ultimate antistatic device, the handheld deStat. The deStat is incredibly easy to use as it removes dust and static charge from analog and digital audio media in just 10 seconds! High performance enthusiasts know that static charges on LPs, CDs and DVDs can lead to distracting noise and compromised sound. Now simply hold the Destat over your media of choice and press the button. The Balanced Ion Flow comprised of the perfect combination of negative and positive ions removes dust and completely eliminate static charges.
Use the deStat on your system components as well as media; power cables, line-level interconnects and speaker cables. The deStat operates on four AA batteries and takes just 10 seconds, while a safety circuit prevents shock from the discharge pin.
Specifications
Type: Fan-assisted balanced ion flow
Power: 4 AA batteries
Size: 180mm W x 85mm H x 50mm D (7″ W x 3.25″ H x 2″ D)
Weight: 560g/1.25lbs Including batteries
A joint development project with ORB High End Systems of Japan
MSRP: $360.00 — Available: Now


Before treatment reading is +20. After ten quick seconds, the reading is zero! Completely free of static charge!
Furutech makes a wide variety of high performance 15A and 20A A/V cable and power connectors and parts, as well as distribution/filtering products like the e-TP4+4, e-TP609 and e-TP60 Power Distributors, and e-TP80 Power Filters, deMag Disc and Cable Demagnetizer, the Destat, a fan-driven, Balanced Ion Drive device for totally eliminating static from LPs and CDs, lightweight and stylish FRD Room Diffusion Panels, PC-2 Disc Pure Cleaner, and their own very special NANO Liquid Contact Enhancer, plus even more fine cable and OEM products.