FUJIFILM North America Corporation just announced it will showcase its most recent instant camera models during PMA 2010 — the commercial grade Instax 210, and two consumer models — the newest addition to the Instax family, the Instax Mini 25 and the Instax Mini 7S which was introduced last fall. Fujifilm has been producing instant films in Japan since the late 1980's and by 2003 was introducing branded peel-apart type instant films to the United States. In November 2008, the company introduced its first instant camera, the Instax 200 to the U.S. market.
"The response to Fujifilm's instant cameras and films in the United States has been excellent because they not only fill a need but also produce the exceptional quality photographers have come to expect of Fujifilm products", said Kayce Baker, director of trade marketing, Imaging Division, FUJIFILM North America Corporation. "Consumer interest in the Instax Mini 7S was very strong during the holidays. As a result of its popularity we are now able to offer U.S. consumers our newest model, the Instax Mini 25. There is still a need for instant film in professional and commercial markets. For consumers, the Instax Mini provides a nostalgic experience for some, and a whole new photo experience to those who grew up on digital."
Instax 210 Instant Film Camera
Successor of the Instax 200, Fujifilm's newest commercial grade instant camera, the Instax 210 uses Fujifilm's Instax Wide Instant Color Film to produce vivid images in a wide picture format. The Instax 210 also offers an automatic adjusting flash, high-resolution retracting lens, a new close-up lens adapter and a big clear viewfinder. With a high precision Fujinon lens, the Instax 210 has a programmed electronic shutter, two range selectable shooting options, and an LCD control panel displaying focal distance and film count. The Instax 210 instant camera is sleek black and sports a rounded shape, easy-to-hold side grip, and finger controllable composite control panel. The Instax 210 camera and film provide a high quality instant film solution for a variety of commercial applications including: law enforcement, health care, fashion, and event marketing.
Instax Mini 25 Instant Film Camera
Fujifilm's newest consumer model, the stylish Instax Mini 25 produces vivid credit-card sized instant prints using Fujifilm Instax Mini Instant Film. In addition, this instant camera boasts added features such as an LCD film count and shooting mode display as well as a camera mounted shooting mirror for taking self portraits. The Instax Mini 25 also includes a built-in automatic electronic flash for low-light shooting, a detachable close-up shooting lens and three exposure modes — auto mode for dark settings, fill in flash mode for auto flash on bright or dark areas, and landscape mode. The programmed electronic shutter has two release buttons for vertical and horizontal shooting. Available in white.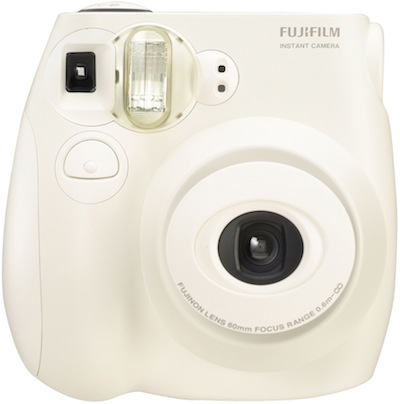 Instax Mini 7S Instant Film Camera
Also for consumers, the Instax Mini 7S is an instant film solution equipped with high end Fujinon optics and four selectable shooting modes. With its silken white finish and cute design the Instax Mini is a sleek looking camera that produces high-quality, credit-card sized instant prints using Fujifilm Instax Mini Instant Film.
Instax Instant Color Films are ISO 800 films that produce sharp clear reproduction for vivid color, natural skin tones and super fine grain instant prints. Instax Wide Format Film has an image size of 3.90″ x 2.44″. Instax Mini Film is 2″x3″ while the image area is 1.8″ x 2.4″.
Fujifilm's line-up of Instax instant cameras and instant films have been enjoying success in Asia and Europe for years, which has helped generate a loyal following in the United States, particularly over the last year. The continued introduction of instant film products in to the U.S. market is part of the company's ongoing commitment to the culture of photography.
Availability: