Merges Style with the Latest Technologies at Value Price Point
FUJIFILM U.S.A., Inc. announced the newest addition to its popular J-series line-up with the FinePix J38 digital camera. With its sleek design and powerful features, the FinePix J38 is a great digital camera option for the consumer on a budget who doesn't want to sacrifice great quality or style for a lower price.
At only 20 mm thick, the FinePix J38 is the perfect on-the-go camera fitting easily into a shirt pocket or hand bag. Despite its size, the FinePix J38 black metal front body houses a 12-MegaPixel CCD, a 3x Fujinon optical zoom lens and a brilliant 2.7″ high resolution LCD which displays images with sharpness and clarity. The J38 also has new SR Auto, Face Detection with Auto Red Eye Correction and Panoramic Shooting Modes.
Automatic Scene Recognition
The FinePix J38 features Fujifilm's new SR Auto mode (Automatic Scene Recognition), which enables the cameras to intelligently recognize six types of scenes automatically. For each picture taken in this mode, the camera will optimize the ideal exposure, focus, white balance and ISO, and engage Face Detection and Picture Stabilization as needed, for the scene to ensure the best quality picture is captured with ease.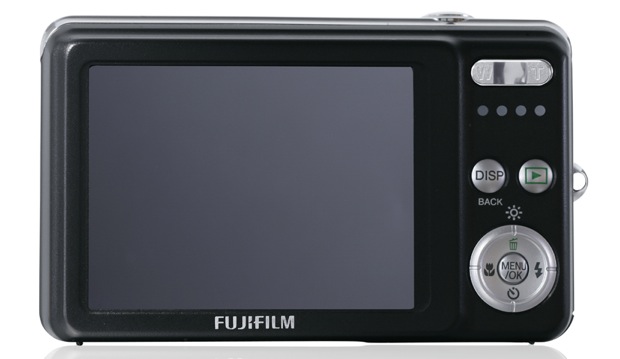 Fujifilm's FinePix J38 also offers the following value-adding features:
Face Detection Technology: Fujifilm's renowned Face Detection Technology with Automatic Red Eye correction also comes standard on the FinePix J38.
Panoramic Shooting Mode: Lets you capture and combine up to three consecutive shots, creating one large panoramic shot.
Picture Stabilization: The FinePix J38 has Fujifilm's Picture Stabilization which ensures clear blur-free photos.
Scene modes: Pre-programmed scene modes provide top-quality photos in a wide-range of shooting conditions.
Low Light Shooting: Utilizes ISO settings of up to 3200 at 3MP, to capture stunning images even in low light.
Battery Life: Long-life rechargeable Li-ion battery for extended shot life.
"It's important to offer an affordable digital camera without compromising performance or style," said David Troy, marketing manager, Consumer Digital Cameras, Electronic Imaging Division, FUJIFILM U.S.A., Inc. "With an overwhelming consumer response to the initial J-series cameras, we wanted to give our customers even better features for the same low prices."
The FinePix J38 will debut in late August 2009 with a retail price of $129.95.