Allows Instant Video Sharing to Facebook, Mobile Phones, and even TVs
The maker of the best-selling Flip Video family of camcorders — recently acquired by Cisco – today announced the availability of FlipShare 5.0, the latest version of the acclaimed software pre-loaded on Flip Video camcorders and available as a download at no cost. The updated software greatly expands the video sharing options available to FlipShare users. In addition to direct uploads to Facebook and online sharing through FlipShare.com, FlipShare now offers instant video sharing to mobile phones through the introduction of the FlipShare Mobile app for iPhone, Blackberry and Android devices. The latest FlipShare 5.0 software, announced today in conjunction with the new FlipShare TV, also enables sharing directly to the television. FlipShare 5.0 is compatible with all Flip Video camcorders and can be downloaded today at www.TheFlip.com/support. The mobile apps are available at no cost for select Blackberry, iPhone and Android mobile devices.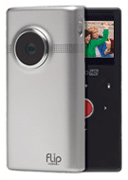 "The millions of Flip owners, and their friends and families, now have an even better platform for sharing video and photos," said Jonathan Kaplan, senior vice president and general manager of Cisco Consumer Products. "Our newest FlipShare software gives users even more sharing options, whether online, on a mobile phone, or even on a TV."
FlipShare 5.0 features many upgrades to make it easier for Flip users to enjoy and share their videos. The upgraded software includes a number of new organization tools and simple user controls, and debuts Magic Movie, a fun new feature that automatically creates custom movies from a user's selected video clips. In addition, users now have even more convenient options for sharing. They can email video privately through Flip Video's hosted video email service; create custom Flip Channels to share with groups of friends and family on FlipShare.com; or upload videos online directly to Facebook, as well as YouTube and MySpace.
The new FlipShare software also gives Flip users the ability to share video instantly with friends and family on mobile phones and, through today's introduction of FlipShare TV, on televisions anywhere. FlipShare Mobile apps for iPhone, Blackberry, and Google's Android platform, extend FlipShare's video sharing capabilities to mobile devices. FlipShare TV, another first from Flip Video, brings a user's entire Flip Video library into the family room and onto the TV screen without wires, as well as enabling them to share videos instantly with other FlipShare TV users.
FlipShare Software Features:
Available now at www.theflip.com/en-us/App/fvsw/5.x/update/ (at no cost)
Pre-loaded software to organize, edit, and share videos
Works on a PC or Mac
Email videos and video greeting cards
Upload videos instantly to Facebook, YouTube and MySpace
Create Flip Channels to share content privately with groups of friends or family
Share instantly to mobile phones using the FlipShare Mobile app
Share instantly to any TV using FlipShare TV
Capture HD snapshots from videos
Watch videos on-the-go at FlipShare.com
Create movies or use Magic Movie to create custom movies in moments
FlipShare Mobile Features:
Available for iPhone, Blackberry, and Google's Android platform (at no cost)
Mobile Devices currently supported: Apple iPhone, iPod touch; Blackberry Curve 8520, Curve 8900, and Bold 9000; Google G1 (T-Mobile) and MyTouch (T-Mobile)
View favorite FlipShare videos and photos
Access their personal Flip Channels
Watch Flip Channels from friends and family
Create playlists (iPhone) and favorites
Share videos by email or on Facebook
Users can find the links for the iPhone, Blackberry and Android mobile apps on the FlipShare.com site or at their respective app stores