Eton introduced the Mobius rechargeable battery case with solar panel. Designed for the iPhone 4, the rechargeable battery case features a high-efficiency monocrystal solar panel that needs only one hour in the sun to provide an additional 25 minutes of talk time.
Differentiating itself from solar-charging solutions on the market today, Mobius features a quick charge time and the ability to store charge until you need it. The high-efficiency monocrystal solar panel re-charges the 1800 mAh Rechargeable lithium ion battery pack on the back of the case. Only one hour of solar charging provides an additional 25 minutes of talk time, 20 minutes of internet use, 35 minutes of video playback and more than two hours of audio playback. Mobius can also be charged via the included Micro-USB cable and will sync with iTunes for maximum convenience. Once the battery has been re-charged, the user is in control as to when the extra battery power is used. Mobius features a standby switch to turn off direct power transfer to the iPhone 4, allowing the case to charge and store energy in its own battery — only using the power when you need it.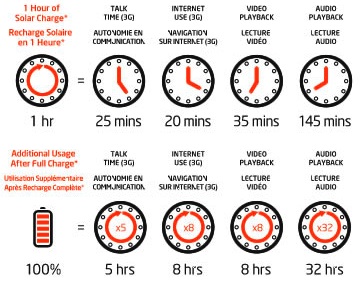 The durable and ergonomic battery case has both a battery charge and solar charge indicator, so the user always knows the power status of the Mobius. Weighing only 3.4 ounces, Mobius also features a USB connection to charge the battery via computer, as well as the unique and proprietary snap fit design protects the glass on the back of the device.
Price and Availability
The Eton Mobius is available now for $80 at Amazon.com.