ESOTERIC, a division of TEAC America, Inc., manufacturer of high end consumer electronics, is now shipping a 3 stage tube amplifier that doubles as a line level amplifier. The amplifier was first shown in the USA at CES 2008. This unique design can be used as a stereo power amplifier or as an integrated amplifier. The A-100 incorporates extensive proprietary circuitry and newly developed technology in 2 of the 3 output stages.
Esoteric's new amplifier provides a minimum of 45 w/ch from KT-88's, in UL-push/pull operation driven with a directly coupled cathode follower. The cathode follower and voltage amplification stage is directly coupled to form a triple stage, combining a variable self-biasing system and a zero voltage control system. Variable bias provides compensation for fluctuations in bias voltage as supplied to the output stage by detecting cathode current and output level demand. This design improves linearity and performance of the output stage by maintaining optimum voltage control. The zero voltage control system stabilizes the cathode follower DC output level improving operation of directly-coupled circuit components. This occurs in an end to end process from the driver stage to the output stage. These circuits combine to improve stability and clarity of the amplifier's output signal.
The A-100 features a custom and proprietary output transformer designed to achieve highly delicate and precise musicality. The amplifier uses specially treated, solid copper "solid" foil as the 2nd order coil. This design maintains very tight coupling properties between the 1st order coil. All stages except the KT-88s are powered by fully stabilized power supplies which help to reproduce an exceptionally deep and finely detailed soundstage. To reduce hum noise associated with tube amplifiers; all tubes except the KT-88s are heated by direct current.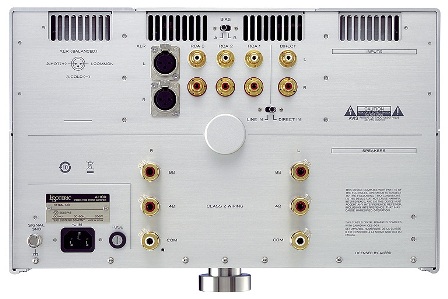 Power supply and output transformers are held by an extremely rigid "H" shaped cabinet structure and circuit components reside inside a block configuration surrounding the mainframe design. Esoteric's massive chassis construction isolates unwanted vibrations and resonance that might occur between circuit components and power supplies.
The A-100 is designed for pure 2 channel power amplification but also works as a line level amplifier by selection from an operating switch on the rear panel. Users can select a DIRECT or LINE IN mode. DIRECT mode is used for operation with an external pre-amplifier. LINE IN mode activates an input selector (RCA x3 / XLR x1), and also a high quality volume attenuator. For line level amplifier operation an illuminated remote control is also included. The A-100 (MSRP $19,000), is available now through Esoteric's dealer network of audio video specialists. For more information on the A-100 please visit: http://www.teac.com/esoteric/A-100.html
About TEAC ESOTERIC Company
Esoteric has been delivering the finest audio video components to the most discerning users for over 20 years. All components used in building the VRDS-NEO (Vibration Free Rigid Disc Clamping System), VOSP (Vertically Aligned Optical Stability Platform), D/A converters, master clocks, SACD/CD players, universal disc players and other electronics; are hand-selected, matched, and graded, to combine into a single, synergistic component. In the USA, Esoteric products are distributed by TEAC America. The TEAC Corporation of Japan is Esoteric parent company and was established in 1953.
About TEAC America, Inc.
TEAC America, Inc., the largest subsidiary of the Japanese electronics maker TEAC, distributes high grade audio video electronics, consumer electronics, computer data recording and storage devices, computer peripherals and professional recording equipment. Products are marketed by TEAC America under the brand names ESOTERIC, TEAC and TASCAM. TEAC America, Inc. was established in 1967. To learn more about ESOTERIC technology, please visit: www.teac.com/esoteric/