Epson's Newest Line of All-In-Ones Enhance Productivity and Convenience for Busy Office and Home Environments Offer More Features, Benefits Than Comparably Priced Competitors
Epson America, Inc. is launching a line of fully featured, versatile ink jet all-in-ones that enhance productivity and convenience for the small office and home office environments. The Epson Stylus CX7400 and Epson Stylus CX8400 include a wide range of technologies optimized to fulfill virtually all day-to-day business and personal printing, copying and scanning needs that generally involve the use of plain paper, while the flagship Epson Stylus CX9400Fax adds high-speed color faxing capability with an automatic document feeder.
Building on Epson's 40-years of experience delivering innovative printing products, these all-in-ones also provide ideal solutions for novice digital camera owners who occasionally want to print photos on photo paper with or without a computer.
"These high-performing, versatile, yet affordable all-in-ones are smart choices for business users as well as families who want to make a good impression with high-quality, durable documents," said Tom Piche, product manager, Consumer Ink Jet Printers, Epson. "Head-to-head, this lineup offers more features and better image quality than competitive models. For all your day-to-day printing needs, whether text or photo, these are the products you want."
Technologies across the line that will benefit customers include:
Advanced DX3™ MicroPiezo print head technology: Epson's print head technology features smart nozzles that can each produce and precisely place three sizes of ink droplets. These innovative nozzles are more efficient than those that can only produce one droplet size. As a result, fewer nozzles are needed to create exceptional photos and documents with remarkable color and detail at fast speeds.
DURABrite Ultra Ink: These inks produce laser-quality text and brilliant color images on both plain and photo paper. These all-pigment inks dry instantly so customers can share documents and prints immediately and produce smudge and water resistant prints on all media types, including plain paper. The output is even highlighter resistant on plain paper. Additionally, the fade resistance on plain paper is rated up to six times longer than leading competitive prints(1), which is important for documents that need to be saved, such as business contracts, estate planning paperwork, or tax documents.
Individual ink cartridges and one standard set: All three models feature individual ink cartridges so that consumers only have to replace the color needed. Additionally, with one standard ink set for both documents and photos, there is no need to swap out cartridges based on what is being printed.
Auto Photo Correction with advanced face detection(2): This innovative technology is like having a photo lab technician built into the printer to correct the lighting in poorly exposed images to produce perfect prints. It also includes advanced face detection, which automatically distinguishes people from scenery, correcting the color accordingly to ensure beautiful, natural skin tones.
High-speed, multipurpose card slots: Compatible with all popular memory types, these slots make it easy to print brilliant photos without a computer and serve as an additional drive to easily transfer files to and from a computer.
PictBridge interface: Printing directly from a digital camera is easy with this interface.
BorderFree™ photo printing: While optimized for everyday printing, these all-in-ones support more BorderFree photo printing sizes than ever before, including 3.5″ x 5″, 4″x 6″, 5″x 7″, 8″x 10″, and letter sizes, with no perforations or edges to trim.
Easy, high-quality copying and scanning: Epson makes it easy to scan, copy and archive important documents and photos electronically with one-touch color copying and easy, high-quality scanning. Users can also make multiple copies quickly and easily.
Epson Easy Photo Fix: Consumers can restore old faded color photos back to their original brilliance with just one click with Easy Photo Fix scanning technology. This software coupled with the all-in-one hardware makes it easy to scan, restore, print, and share old memories.
Fit-to-page copying: The Epson CX7400 offers one-touch fit-to-page copying of photos and documents, while the Epson CX8400 and Epson CX9400Fax offer user-selectable reduction and enlargement from 25-400 percent.
Epson CX7400 Aggressively Priced
The Epson CX7400 is the most aggressively priced product in the company's new generation of ink jet all-in-ones. A key advantage over competing products priced below $70 is the overall combination of easy-to-use features and performance it delivers to customers who generally use plain and/or recycled paper for most of their printing and copying. The Epson CX7400 delivers both black and color text printing as well as copies at up to 28 ppm/cpm. It also prints 4″x6″ borderless photos in as fast as 27 seconds(3).

Value-Packed Epson CX8400 Offers Greater Productivity
The Epson CX8400 is the most value-packed all-in-one ink jet solution on the market for less than $100. It has all the benefits of the Epson CX7400, but offers even more productivity with even faster speeds, producing both black and color text documents at up to 32 ppm and copies up to 30 cpm. It prints 4″x 6″ borderless photos in as fast as 26 seconds(3). Additionally the 2.5-inch, tilt LCD features simple, intuitive menus and offers easy viewing, selecting, copying, and printing of photos without a computer. Users can also adjust the copy density to achieve the best results.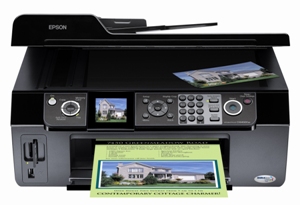 Flagship Epson CX9400Fax Most Feature-Rich for Office Needs
The flagship model in the lineup is the Epson CX9400Fax. Building on the Epson CX8400, the Epson CX9400Fax is a fully-loaded 5-in-1 solution that offers all the features and functions business people need and want from an ink jet all-in-one, printing plain paper documents, scanning, copying, manipulating and printing photos, and faxing. The high-speed color fax (33.6 Kbps) and convenient built-in 30-page Automatic Document Feeder enable users to fax, copy and scan stacks of important color or black-and-white documents in seconds, including legal size documents, for the greatest versatility. This all-in-one offers a number of other convenient features for busy executives, including a 60-number speed dial, up to 100 pages of memory, automatic redial, auto answer, and usage reports. The fax also features Caller ID with distinctive ring tone capabilities.
Connectivity and Operating Systems
The three all-in-ones support Hi-Speed USB 2.0 and are compatible with Windows Vista™, XP Professional x64, XP, and 2000, as well as Macintosh OS X 10.2.8, 10.3.9, 10.4.x or later.
Availability and Support
The Epson CX7400 and Epson CX8400 are now shipping and will be available for estimated street prices of $69.99 and $99.99, respectively, while the Epson CX9400Fax will be shipping in October and will be available for an estimated street price of $149.99 in major computer, office, mass merchant, and electronic superstores and can also be purchased through mail order, PC manufacturers, the Internet, and Epson's own retail site, http://www.epsonstore.com/. The all-in-ones are backed by the one-year Epson Limited Warranty and supported by telephone, e-mail and Web-based customer support and technical assistance. More information about Epson and its products is available by calling 1-800-GO-EPSON (1-800-463-7766) or visiting the Epson Web site at http://www.epson.com/.
About Epson
Epson offers an extensive array of award-winning digital imaging products for the consumer, business, photography, and graphic arts markets. The company is also a leading supplier of value-added point-of-sale (POS) printers and transaction terminals for the retail market. Founded in 1975, Epson America Inc. is the U.S. affiliate of Japan-based Seiko Epson Corporation, a global manufacturer and supplier of high-quality technology products that meet customer demands for increased functionality, compactness, systems integration and energy efficiency. Epson America Inc. is headquartered in Long Beach, Calif.
Note: Specifications subject to change. Epson, Epson Stylus, DURABrite and MicroPiezo are registered trademarks of Seiko Epson Corporation. BorderFree and Easy Photo Fix are registered trademarks and DX3 is a trademark of Epson America Inc. All other products and brand names are trademarks and/or registered trademarks of their respective companies. Epson disclaims any and all rights in these marks.
Ink fade resistance ratings based on accelerated testing of unframed color prints in indoor display condition; claim that documents resist fading up to six times longer is based on accelerated testing of unframed color prints on plain paper in indoor display conditions. Actual print stability will vary according to light intensity, temperature, humidity and other factors. Epson does not guarantee the longevity of prints. See http://www.wilhelm-research.com/
Not available when printing using Mac OS X.
Pages/copies per minute (ppm/cpm) speeds measured after first page, based on black text and color text patterns in Draft Mode on plain paper. Color photo in Draft Mode on Premium Photo Paper Glossy measured from start of paper feed. Additional print time will vary based on system configuration, software application and page complexity. See http://www.epson.com/printspeed for more information about print speeds.