Provides Easy Setup for Mobile Presenters
Epson America today announced a new innovative and easy-to-use portable projection screen, the Epson ES3000 Ultra Portable Projection Screen. Designed to fit a variety of needs, the ES3000 expands to three popular standard and widescreen sizes, making it ideal for both business presentations and home theater applications. Building on the success of the popular Duet Ultra Portable Projector Screen, the Epson ES3000 uses a unique one-piece design and comes with a durable, wheeled case for quick and easy transport and storage.
"The Epson ES3000 portable screen is the best and easiest solution for anyone who is taking a presentation on the road," said Jason Meyer, product manager, Epson America. "Setup is simple, the design is all encompassing with no loose components, and the wheeled case makes it easy to get from one place to the next — everything mobile professionals need in a portable display solution."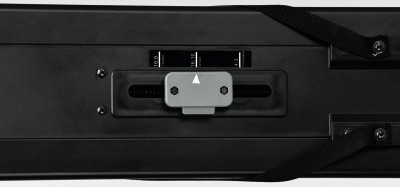 Aspect Ratio Slider
The ES3000's one-piece design eliminates the need to assemble various components. It easily expands and collapses horizontally and vertically, and can be used to project an image up to 80-inches in size (diagonal). The ES3000 also features an innovative screen size selector switch in order to easily choose the size that best meets the need — standard 4:3 or widescreen 16:9 or 16:10; the screen easily opens to the pre-selected size.
Availability and Support
The Epson ES3000 portable screen is currently available for $249* through national resellers, pro audio/visual dealers, mail order, and distribution. The screen comes with a two-year limited warranty.