Enjoy the Music.com, a leader in consumer electronics audio equipment and music reviews for approximately 15 years, now offers daily high-end consumer electronics industry news for those with mobile devices such as the iPhone and Windows mobile devices. With approximately 6 million Apple iPhones and over 20 million Microsoft Smartphones worldwide, Enjoy the Music.com once again leads the industry in providing content dedicated for those on the go. As a continuation of technological firsts offered to audio enthusiasts worldwide, with over a decade of development expertise, we once again expand our ability to deliver content to consumers all around the world.
Enjoy the Music.com began delivering content for mobile devices nearly half a decade ago via our Wireless Application Protocol (WAP) site. While the technology was primitive in relative terms, it was widely used by those who sought the information they desired. As with virtually all computer technology, the past five years has allowed for many advances in capability with mobile Internet browsing devices. With the announcement of this new initiative, today marks the next generation mobile site for Enjoy the Music.com and joins other industry firsts including the world's only Internet browser customized for high-end consumer electronics. To date, no other such site has come close to offering these abilities to many millions of high-end audio aficionados worldwide.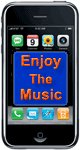 The new Enjoy the Music.com Mobile site is specifically designed for the needs of mobile users. From super fast page loading to elegant and appropriate page formatting, the mobile site will have news articles specifically geared towards the portable device user. In total, Enjoy the Music.com is now available to hundreds of millions of consumers who purchase electronics devices each year.
"Once again Enjoy the Music.com delivers information in more ways to more high-end electronics consumers worldwide with our new mobile resource than any other site online," said Editor Steven R. Rochlin. "Our daily industry news updates, with over a decade of such articles online, has now been expanded for those on the go. We have once again delivered on our longstanding commitment to be at the forefront of Internet technology. By the end of this year our mobile site could reach approximately 30 million people worldwide who use portable devices to find information on the Internet. With many millions of visitors to Enjoy the Music.com over the years, if they are interested in a certain product or technology odds are we have extensively covered it. Today, mobile users can also take advantage of the immense knowledge found within the site."