Features 1080p HD Video Capture, 12X Optical Zoom, 10MP Still Images, Dual-Capture Recording, Eye-Fi Wireless SD Card Support, and Touch Screen Controls on a 3-Inch LCD Display
DXG today introduced its new DXG-A85V Pro Gear™ HD camcorder, making top of the line camcorder technology available to any video enthusiast. With impressive features such as 1080p HD video capture, 12X optical zoom, a 10 megapixel still camera, touch screen controls on a 3-inch LCD display and Eye-Fi Wireless SD card support, the DXG-A85V is sure to impress. Available now, the DXG-A85V retails for $319.99.
Professional Grade Camcorder Capabilities for a Fraction of the Cost
The top reported camcorder trends of 2010 include video products that are not only HD, but create Web-friendly files, use Flash format memory, are ultra-portable and have wireless capabilities. DXG created its Pro Gear line, first introduced in January with the DXG-A80V model, to meet growing consumer demands for products that provide advanced features, flexibility and easy control of recording and playback, at a price that won't break the bank.
The DXG-A85V records in full 1080p HD and provides several filming options, such as high-speed sequential shots (snap up to 30 photos per second) and dual-capture mode to enable video recording and still image capture simultaneously. With the advanced option of recording in H.264 (MOV) or WVGA formats, the DXG-A85V lets users create video files that meet their needs of either quick uploads to sites like YouTube or crisp HD video playback on a HDTV. The AF Lock Function also gives more experienced users the ability to manually control and fine tune the focus on a subject.
Equipped with an instant-on feature, DXG-A85V users will never miss another video perfect moment. The 3-inch LCD touch screen provides convenient access to the menu as well as focus control by simply tapping the desired focus area. Equipped with a built-in Gyro sensor for electronic image stabilizer and 12X optical zoom, you can also steadily film objects from a distance, while the option of recording at 60 frames-per-second is perfect for action moments.
"With our Pro Gear™ line, our goal is to deliver high-quality, feature-rich HD camcorders that compare to top of the line products on the market at a price that's affordable for any video enthusiast," said Paul Goldberg, senior vice president of sales and marketing at DXG USA. "With its unique blend of advanced recording options, very easy to use controls, and dual-application support of uploading to either the Internet or burn and playback on a big screen HDTV, the DXG-A85V is truly two camcorders for the price of one."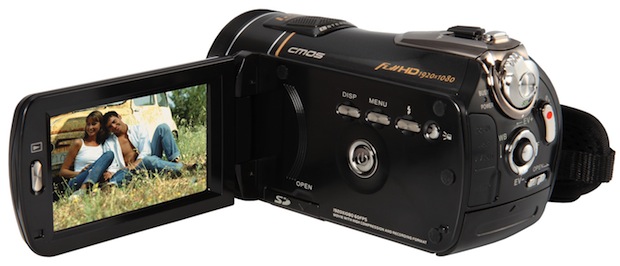 DXG-A85V Specifications
Price: $319.99
Dimensions: 4.92″ (L) x 2.52″ (W) x 2.52″ (H)
LCD: 3″ Touch Screen Display
Storage: Built in 128MB, SD slot for expandable memory up to 16GB Class 6
Video Resolution: 1920 x 1080/30fps; 720p/60fps
Still Photo: 10 megapixel
Power Supply: Li-ion NP-120
Zoom: 12X optical zoom/10X digital zoom
Color Effects: Color, black and white, sepia
Connections: HDMI for connecting to HDTV (HDMI cable included in box), AV for connecting to a Standard Definition TV, USB for connecting to PC or Mac
Video Editing Software Included: Mr. Photo (photo editing), VideoWorks (standard definition video editing), ArcSoft TotalMedia HDcam (high definition video editing/ conversion to AVCHD for burning to DVD or Blu-ray disc) — $99 retail value
Other Features: Electronic Image Stabilization, Eye-Fi Wireless Ready, Dual-Capture Mode, High-Speed Sequential Shooting Mode (30 photos per second), Digital Voice Recording, PC and Mac compatible, Self timer, LED flash, TV out (NTSC, PAL), USB 2.0, Optional remote control
About DXG USA
DXG USA, The Digital Camera Company, one of the fastest growing camcorder manufacturers in the U.S., provides intuitively designed high-definition camcorders for the youth and mainstream markets. Compact, fashionable and affordably priced, DXG digital camcorders are setting trends for quality and utility. DXG USA is a fully owned subsidiary of DXG Technology Corp., one of the world's leading manufacturers and designers (OEM/ODM) of digital cameras and camcorders. DXG Technology has won numerous design and innovation awards and employs more than 4,000 people worldwide.