Elegant Twin-Tower, Active Speakers Feature Music-Enhancing and Wireless Technologies
DW Collection (DWC) has begun to ship the Art.Studio, a new twin-tower, powered music system. The latest addition to DWC's audio collection, the Art.Studio is a sonic and engineering tour de force in the tradition of its pioneering Ferrari Art.Engine home audio system. The Art.Studio's twin speaker towers and their patented Aphex audio-enhancing circuitry create a room-filling sound field of high-definition stereo entertainment. In a world of compressed music files and limited dynamic range, the Art.Studio system makes contemporary music sound more spacious, detailed and entertaining. Its outstanding performance brings flat music back to life, reduces listening fatigue and delivers a clear, even sound from the front to the back of any room. The Art.Studio also represents DWC's latest, highest achievement: combining form, function, performance and exclusivity in the best tradition of fine art, design and engineering that a lucky, treasured few music lovers will have the opportunity to own and appreciate. And it's the only consumer speaker with Aphex's music enhancing technology BUILT IN.
Like its Ferrari-inspired Art.Engine cousins, DWC machines the Art.Studio's elegant 49-inch high towers from solid, aircraft-grade 6061 T6 aluminum billets. Internally, its three-way speaker system boasts six class D digital amplifiers (three per side) and delivers 350 watts per tower; a crossover with digital signal processing (DSP); Aphex audio enhancement technology; multiple input options; subwoofer and stereo line level outputs; and optional DWC Wireless™ music transmission. Each of its tri-amplified floor-standing towers contains an eleven-driver array that includes eight 3.5-inch woofers, two 3.5-inch midrange drivers and a one-inch soft-dome tweeter.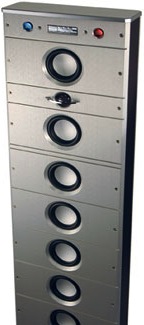 Art.Studio's optional DWC Wireless™ wireless signal transmission system lets music lovers transmit signals to the system via its award-winning multi-function dock from any audio source–iPod, PC or Mac, CD player, MP3 player or satellite radio–and an optional, elegant remote control made of machined aluminum adds a further layer of user convenience. The wireless technology provides the highest level of performance and ensures the signal always arrives interference-free and without degradation. Today's home airwaves are cluttered with signals from such electronics as cordless phones, radio controlled toys, cell phones, microwave ovens and wireless routers. DWC Wireless™ technology uses robust frequency-hopping spread-spectrum (FHSS) transceivers to make dropouts a thing of the past.
When previewed at The 2010 Home Entertainment Show and CES in January in Las Vegas, the Art.Studio drew admiring comments about its stunning visual design and performance, with many guessing its cost at two and three times the list price. The Art.Studio also earned the prestigious Design & Design Product Design Award, an annual honor conferred by a panel of international designers.
Engineers originally developed DWC's proprietary Aphex audio enhancement technology for the professional recording industry. Top artists like James Taylor, Paul McCartney and Fleetwood Mac along with today's leading sound engineers use the technology to improve the fidelity of the multi-track recordings for their albums and concerts. Unlike equalizers and conventional 'enhancement' circuits, Aphex improves the audio from music files–like MP3s made with conventional recording and data compression technology–by analyzing and restoring musical harmonics in real time and providing a remarkable sense of spaciousness and clarity. Some have called the effect "magical." The circuit is switchable, so those listening to uncompressed high-fidelity tracks can turn it off if they wish.
"There is simply no other enhancement technology as powerful as Aphex and just as importantly, it is a time proven technology being applied for the first time in the consumer audio world leaping out of the recording studio and broadcast markets," said DWC Co-founder and CEO, inventor and engineer David Wiener. "Vocals, drums, pianos, guitars and other instruments sound more distinct and detailed. It expands stereo imaging to create a more 'open' realistic performance with greater presence. It optimizes bass frequencies for a deeper, more resonant sound, making music sources seem more powerful, dynamic, and emotionally engaging, even at low volumes." The vocal intelligibility of podcasts and audio books also dramatically improves as users experience less listening fatigue.
"For DWC, it's all about style, design, engineering, technology and audio enhancement that really works by way of patented, proven technologies that have been described as 'magical,'" adds DWC Co-founder and Managing Partner Robin Sibucao. "Our technology and products offer a psychoacoustic benefit that is real and pleasing to the human auditory system."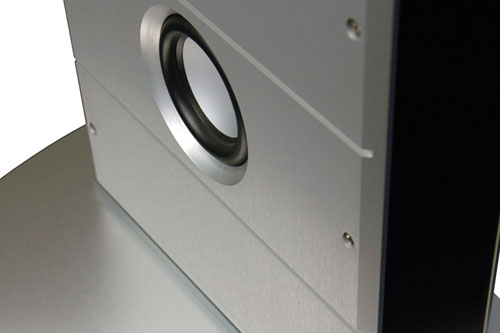 Hand-assembled at the DWC Technology Center in Utah, DWC will build about 150 pairs of the Art.Studio this year for discerning fans of design, Ferrari-inspired engineering and music worldwide. The Art.Studio is now available in floor standing and wall mount styles at select retail outlets and online direct from the manufacturer at an MSRP of $5,999 ($6,800 with the optional DWC Wireless™ technology and dock).
About the David Wiener Collection (DWC)
The David Wiener Collection was spun off from David Wiener Ventures (DWV), a design and innovation studio that creates some of the world's most exclusive and prestigious consumer products. DWC audio and entertainment products exhibit extraordinary, uncompromised performance, styling, materials and craftsmanship. The company is relentless in its pursuit of superior products and groundbreaking technologies. DWC mirrors DWV's commitment to performance and style as it grows its audio and entertainment collection, along with its technology licensing business.
Founded to create advanced vehicles, products, furniture and fashion, DWV prides itself on a unique operational model, based on experience with Formula One teams, that inspires its staff to optimize performance, style, operations, image and success.