Dell announced the 15-inch M4700, 17-inch M6700 and M6700 Covet Precision mobile workstations, which are the first to offer built-in NVIDIA 3D Vision Pro solution, Gen 3 professional graphics. The popular Covet Edition is back on the 17-inch version, featuring a brilliant Phoenix Red color finish for extra appeal and edge to edge Corning Gorilla Glass 2 for brighter images and increased resilience and protection.
The Dell Precision M4700 and M6700 incorporate the latest Intel Core i5, i7 and Extreme Edition processors with Turbo Boost Technology for optimal performance and an extensive choice of professional graphics including the NVIDIA Quadro K-series GPUS and AMD FirePro graphics. The M6700 is the first and only to offer AMD FirePro M6000 with PCIe x16 Gen 3 for fast data throughput.
Additionally, Dell provides DDR3 SDRAM with up to 32GB of system memory and 1600MHz of memory speed and up to 16GB of 1866MHz memory, the fastest memory available on a mobile workstation, for high performance and fast access to large data sets. They also offer an optional SATA3 512GB solid state drive (SSD).


M4700

M6700
Both systems come with outstanding expandability in the form of RAID 0/1/5 and three storage devices with up to 1.8TB of total storage in the M4700 and up to four storage devices with up to 2.8TB of total storage in the M6700. That means not only can Dell Precision mobile workstations deliver graphic-intensive designs fast, but also can store them locally no matter where they are.
Delivering on the promise of a true desktop replacement, the M4700 and M6700 offer a wide array of ports which enables users to connect to a greater number of formats and devices without carrying around multiple dongles, increase storage and connect to more displays. The I/O ports include two USB 3.0, two USB 2.0 and one eSATA / USB combo ports and three integrated video ports – one VGA, one HDMI and one DisplayPort 1.2.
Designed for increased uptime and dependability while working in or away from the office, the new mobile workstations feature a durable aluminum and magnesium alloy chassis that is MIL-STD 810G tested, the lightest 17-inch design and all day battery life. An optional slice battery, ExpressCharge battery and NVIDIA Optimus technology, which intelligently and automatically optimizes the system to provide outstanding graphics performance when needed while extending battery life, are also available on both the M4700 and M6700.
The new workstations also have quiet dual fans and cooling solutions for the CPU and graphics to enable long periods of high performance without overheating and an easy ejectable primary hard drive caddy for customers working with large volumes of data or sensitive data and need to remove or swap out hard drives frequently.
Specifically designed for customers doing color-critical work, Dell's mobile workstations offer a variety of brilliant WLED and IPS RBG LED display options with a wide spectrum of colors including more than 100 percent Adobe color gamut. The M6700 will also be the first mobile workstation to offer optional 10+ finger multi-touch in the coming months.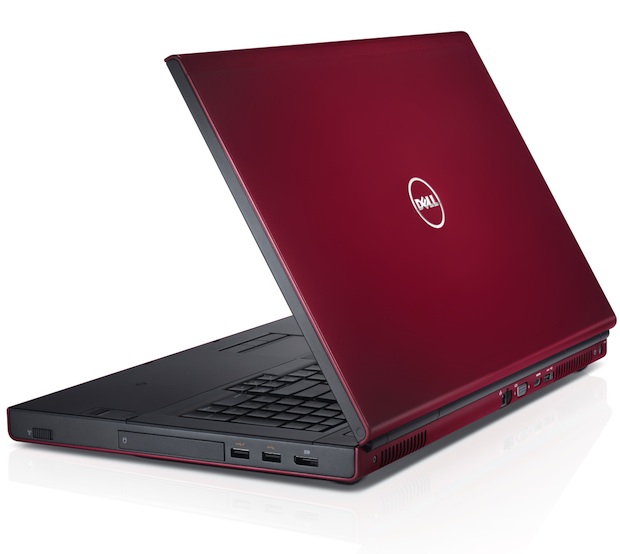 Another first on the M6700 is NVIDIA 3D Vision Pro, a combination of wireless active shutter glasses, an integrated RF communication hub, and advanced software. The technology automatically transforms various CAD/CAM/CAE, DCC, seismic visualization, life sciences and other applications into full stereoscopic 3D to improve the usefulness of the application, deliver better results and increase productivity.
The M4700 and M6700 can power up to three simultaneous displays when undocked and up to five displays when docked and are compatible with the Latitude E-family dock.
Pricing and Availability
Dell Precision M4700 (15-inch) → $2,199
Dell Precision M6700 (17-inch) → $3,579
Dell Precision M6700 Covet (17-inch) → $5,219