Available Only to Spyder3Pro & Spyder3Elite Customers
Datacolor, a global leader in color management solutions, is offering all users of its Spyder3™ colorimeter system a discount on its Spyder3TV software to properly calibrate their color TVs. Spyder3 users can now easily, effectively, and inexpensively use their current monitor calibration device to optimize the image quality of all their TVs and maximize their home theater viewing experience. The Spyder3TV software kit includes a software CD, test pattern DVDs (for PAL and NTSC) and a Quick Start Guide at retail outlets for $79.00 or as a download option direct from Datacolor for $59.00. Users who purchase the download version can burn the software and test images directly to a DVD.
Whether your TV is a flat screen LCD, plasma, RPTV, DLP, conventional (color tubes) or projection, users can now get the same color accuracy in image reproduction from their television using the special SpyderTV software application. The need for proper calibration of TV monitors becomes immediately obvious when comparison shopping at local electronics stores where the representation of color varies greatly from one TV to another. Which color rendition is the right one? The answer is probably none of them. Most manufacturers enable the "Torch Mode" before shipping their products to retail outlets — a mode that is geared toward the strong ambient light typically found in showrooms. In addition, many other sources impact image colors including connected devices such as DVD players and even the connecting cables being used.
TV manufacturers integrate extensive user menus and functions in their devices to provide consumers with optimization options, but the user then has the challenge of finding the balance between contrast, brightness, color and color temperature using their own visual judgment. This is where Spyder3TV will help. This award-winning tool provides an easy-to-use solution for optimizing all the TVs in your house so network programming and DVDs can be viewed as originally intended. Spyder3TV software calculates the adjustments required for the various settings of the TV, and compensates for lighting conditions based on where each TV monitor resides. Similar to the process for calibrating computer monitors, the SpyderTV software application comes with a step-by-step guide through the optimization process.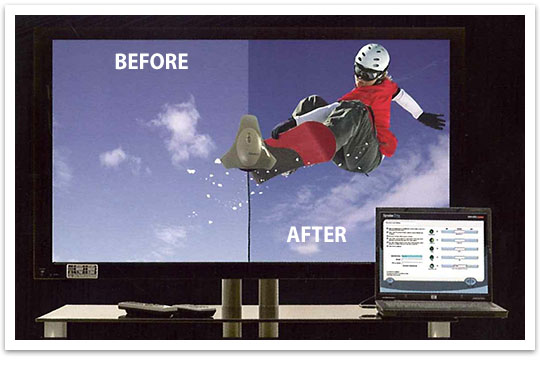 "Most consumers are perfectly content with the color rendition of their television until it is properly calibrated for its specific environment," says Christoph Gamper, Vice President, Consumer Business Unit, Datacolor. "Once they see the vibrant colors after it has been properly calibrated their immediate reaction is to calibrate all the other TV monitors in their house. By using the step-by-step guide, calibration is fast and easy. The added benefit is that properly calibrated TV monitors use significantly less energy and have longer lifespans."
The Spyder3TV software kit (retail kit or download) can only be used by customers who already own a Spyder3Pro, Spyder3Elite, or have access to either. The Spyder3TV System (Calibration colorimeter and software kit) can be purchased at electronic retail outlets for $99.00. To properly calibrate TV monitors, a DVD player and PC computer (Windows 2000, XP, or Vista) must be near the TV or projector. For further information, please visit spyder.datacolor.com.
About Datacolor
Datacolor is a global leader in color management solutions and color communication technology. The world's leading brands, manufacturers, creative professionals and consumers, have been choosing Datacolor's innovative technology and solutions to consistently achieve the right color for nearly 40 years. A Swiss held company, Datacolor's global presence encompasses a sales, service and support network serving customers in more than 65 countries throughout Europe, the Americas and Asia, along with 13 worldwide operation and production facilities. Industries served include apparel and textile, paint and coatings, automotive, plastics, photography, home theater and others.