Daniel Hertz M1 Loudspeakers
Audio legend Mr. Mark Levinson has returned to his roots in high-performance audio with his new Daniel Hertz products
The company's beautiful M1 loudspeakers ($75,000/pair) and Swiss-built M5 Telikos power amplifiers ($6,000 each) enjoyed a pre-launch preview party at Real Mastering, Inc. during October's Audio Engineering Society convention at the Jacob Javits Convention Center in New York City. Other Daniel Hertz loudspeakers will soon arrive — models M2, M7, and M3 subwoofer — all of them, like the M1, made at the Petrof piano factory near Prague.
With a sensitivity rating of 100dB/1W/1M/8 Ohms, the large high-efficiency M1 loudspeakers are the first to combine the dynamic linearity and punch of professional loudspeakers with the sonic transparency of the best audiophile products. Conservatively rated at 200Watts/channel, M5 Telikos power amplifiers are "especially refined in the milliwatt region," according to Levinson.
Also due soon are Daniel Hertz Swiss-made M6 1 MegOhms Preamplifier, so called because its ultra-high input impedance places essentially no load on source components, and the Swiss-made M9 SSD PC Media Center. The M6 includes a high performance USB input stage for direct connection to the M9 and other computers. Projected retail prices are: M2 loudspeakers, $25,000/pair; M3 subwoofer, $18,000; M7 loudspeakers, $17,000/pair; M6 1 MegOhms preamp with inboard DAC, $8,000. Price for the PC Media Center will vary with storage capacity options. Daniel Hertz will offer DH Silver One interconnect cables at $120/ft. (terminated) and DH Premium 500 speaker cables at $100/meter (unterminated).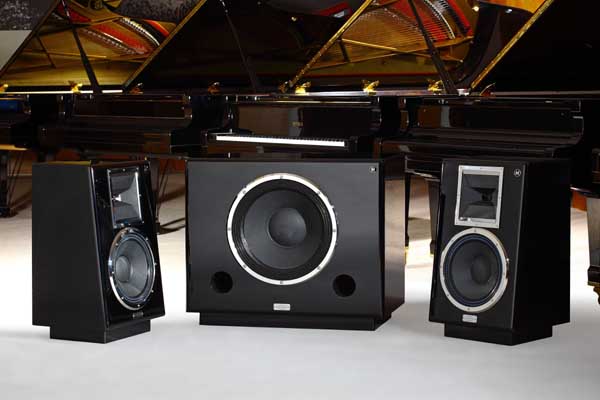 Daniel Hertz M2 Loudspeakers and M3 Subwoofer
The AES preview party took place with several engineers, photographers and journalists in the main room at Real Mastering in Mamaroneck, NY, less than an hour north of downtown Manhattan. Those in attendance were treated to an assortment of recordings mastered by Rob Fraboni using his proprietary new signal processing technology, RealFeel™, in preparation for private sessions with EMI and Capitol Studios executives the following night. Those present heard an unprecedented level of realism from Fraboni's recordings, including up-close-and-personal blues performances by Keith Richards from the Grammy award-winning album "Timeless," and the John Handy Award-winning Hubert Sumlin recording, "About Them Shoes." Capitol engineers were dazzled by what they heard and by what they saw. The M1's are both sonically impressive and visually stunning. "All agreed that they had never heard music reproduced at this level of quality before," Fraboni reported.
Finished in stunning true black piano finish with hand-polished stainless steel driver reinforcements–a feature whose design serves functional and aesthetic purposes–M1 loudspeakers are made to exacting standards in the Petrof Piano factory, near Prague in the Czech Republic. Real Mastering's system used two M5 Telikos amplifiers per channel in bi-amp mode, a total of four mono amps for stereo. The M5 has built-in 18dB/octave electronic crossovers which make bi-amping easy.
As the M6 was not yet available, the front end for the system was Real Mastering's custom built Inward Technologies' preamp and Merging Technologies' Pyramix DAW. Diehard rockers all, those in attendance agreed that they'd never heard anything approaching the sheer dynamic level of Daniel Hertz. The recording and mastering worlds will never be the same.
The audiophile market will soon be similarly transformed. Dealers in Hong Kong, Dubai, Moscow, New York, and other key cities are awaiting shipments of the first Daniel Hertz products. The loudspeaker drivers are designed in the US to professional concert toughness. All the electronics are built in Switzerland with the craftsmanship you'd expect from the personal involvement of Mark Levinson. For those with the passion and the budget for the best playback on the planet, Daniel Hertz's combination of power, refinement, and ease of use will prove hard to resist.
Daniel Hertz is "the culmination of all my years in music and audio," says Levinson, founder of Mark Levinson Audio Systems, Cello, Ltd., and Red Rose Music.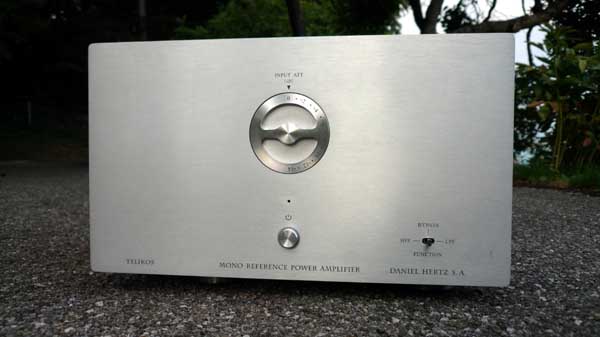 Daniel Hertz Telikos Mono Reference Power Amplifier
Despite his long history of cutting-edge products, Daniel Hertz shouldn't be considered an extension of his previous brands, Levinson says. "Don't expect me to copy anyone, not even myself," he cautions. "Daniel Hertz takes a totally new tack with audio, combining the dynamics of the best outdoor concert sound–think massive amounts of air moving at lightning speed–with the vitality and transparency that record producers and musicians want to hear. Daniel Hertz products are designed to reproduce the softest, most delicate musical material up to the sound of a helicopter landing in front of you."
Levinson adds, "The name 'Telikos' was given to the M5 amplifier for an important reason. In ancient Greek, 'Telikos' means 'ultimate' or 'final.' Daniel Hertz products will likely be my final statement in audio. As a musician, recording engineer and audio designer, I have always searched for the most faithful way to recreate a musical event.
"Daniel Hertz systems set a new standard for the industry based not on personal taste but on fact. Daniel Hertz systems can reproduce music and sounds that other systems simply cannot handle. Daniel Hertz takes us to the next level in audio, and will most likely become the most prized audio equipment of all time. Are you ready for a paradigm shift or not?"
For more information e-mail: info@danielhertz.com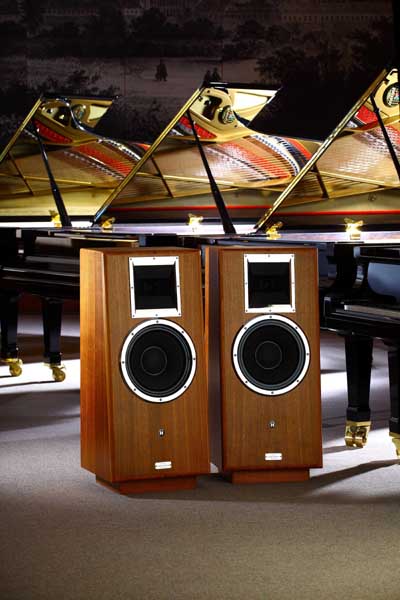 Daniel Hertz M7 Loudspeakers