Creative Entries Sought for Using Consumer Electronics in the Coolest Ways
Crutchfield, one of the nation's leading catalog and Internet retailers of consumer electronics, announces its "You Dream It, We'll Help You Built It"™ contest. The company will offer up to $2,000 in free gear and a $1,000 Crutchfield gift card to the entrant submitting the coolest, most unique idea for using A/V gear currently available for purchase at https://www.crutchfield.com . The contest, which runs through May 14, 2008, will be judged by Dave Graveline, host of the popular weekly consumer electronics radio show "Into Tomorrow." Instructions for entry, along with contest rules, can be reviewed online at https://www.crutchfield.com/contest .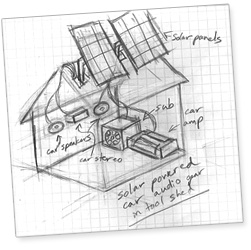 Over the years, Crutchfield has helped customers create and install their consumer electronics in some very innovative ways, including setting up surround sound for a BBQ grill, using car-based audio equipment for a solar- powered home, and even installing a full home sound system on a trailer outfitted for tailgating. Now the company is looking for even more unusual, fun and creative applications and will help the winners turn those into a reality.
Dave Graveline will pick two finalists among all eligible entries, and those two finalists will each win the products selected in their entry. These finalists also will be provided access to Crutchfield Product Support Specialists to help them execute their described installation. The finalists will then each have until June 10, 2008 to assemble their systems and submit photographs, video, and descriptions of the installation process to Crutchfield in order to become eligible for the Grand Prize, a $1,000 Crutchfield gift card.
"Crutchfield has some of the most dedicated, innovative, and creative A/V customers in the world," said Dave Graveline. "Their Product Support Specialists have helped customers set up everything from a surround sound barbeque system to a fully-equipped, state-of-the-art home sound system for a die hard football fan's tailgaiting trailer. This contest is a great, fun way to formally recognize their customers' creativity, while also demonstrating the unparalleled product knowledge of their Product Support Specialists. If they can dream it, Crutchfield can help them build it."
Entrants can register with Crutchfield, surf Crutchfield's site, and avail themselves of all of the best brands to visualize their dream, including great new equipment from Klipsch, Bose, JL Audio, and Sony. Contest items used for the dream system must total $2,000 (exclusive of shipping and taxes), and the idea must be safe and legal.
"We're a company full of A/V aficionados, and we can't wait to see all of the entries," said John Haydock, Sr. Vice President of Creative and Marketing. "We want our customers to show us what they can come up with, put our Product Specialists to the test, and amaze us all with their originality."
About Crutchfield Corporation
Crutchfield Corporation, which celebrates its 34th anniversary in 2008, is the nation's oldest direct integrated marketer (catalog, Customer Care Center, and Internet) of consumer electronics products. Crutchfield has its headquarters and a popular retail store in Charlottesville. Since its introduction in 1974, the Crutchfield catalog has been a respected authority on car and home entertainment products, winning several awards for quality, design, and usefulness. The people who staff Crutchfield's Customer Care Center are noted for their high integrity, product knowledge, and technical expertise. They are available by phone, e-mail, and live online chat. Crutchfield.com offers a convenient, full-service shopping destination to buyers of car and home audio/video products. CrutchfieldAdvisor.com is an all-information website that serves as a single comprehensive source about consumer electronics. Crutchfield was the first vendor-authorized audio/video retailer on the Internet and is one of only two retailers to have won BizRate's coveted "Circle of Excellence" award eight times.