Crowson Technology, LLC
Marketing and Sales
Carpinteria, CA
Contact: John L. Yi
info@crowsontech.com
(888) 4-CROWSON (toll free)
(805) 745-8324 P
(805) 745-8329 F
FOR IMMEDIATE RELEASE
CROWSON TECHNOLOGY'S NEW BMP-3S (Stereo Bass Management Pre-Amplifier)
DELIVERS "STEREO" MOTION EFFECTS FOR HOME THEATER
Santa Barbara County CA, May, 2005/Crowson Technology, LLC — Maker of the TES 100 (Tactile Effects System) proudly announces the release of the hotly anticipated BMP-3S (Stereo Bass Management Pre-Amplifier).
Designed to complement Crowson's TES 100 Couch Kit and A200 TES Stereo Amplifier, the BMP-3S delivers unprecedented steering capabilities for "stereo" motion effects. Watching a powerful stock car zoom from left to right across your display now means FEELING the ground-quaking engine, racing from left to right in your seat!
The BMP-3S also features effective bass management, which allows enthusiasts to capture and sum up to 3-channels of bass information (L, R and LFE) to a discrete left and right output (regardless of the soundtrack format). The BMP-3S employs high quality line-level gain circuitry to ensure any amplifier can be used with the BMP-3S and TES 100 System. Additional features allow each user to further customize his/her experience: gain control and pre-amplification (-20 to +20dB), and a variable low-pass filter (500Hz to 20Hz).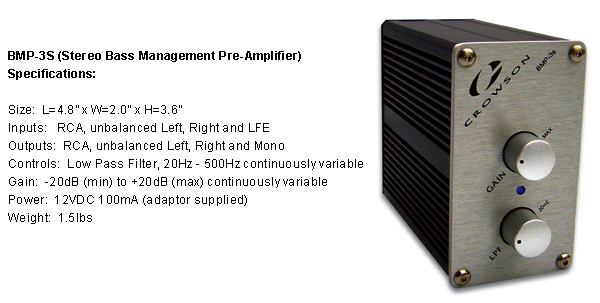 MOVE YOURSELF! For more information, please visit www.crowsontech.com or call us at (805) 745-TECH or toll free at (888) 4-CROWSON. Dealer inquiries welcome.
Crowson Technology, LLC is a home theater innovation company based in Santa Barbara County, California — makers of the TES 100 – the world's finest low frequency linear actuator, proudly hand-assembled and individually tested in the USA.
Crowson Technology – MOVING Home Theater to the Next Level