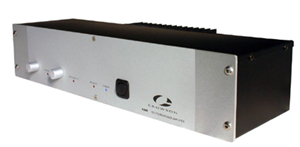 FOR IMMEDIATE RELEASE
CROWSON TECHNOLOGY RELEASES A200 TES STEREO AMPLIFIER
"I thought it would be a gimmicky experience.' Amusing, but not for serious videophiles,' I thought…
…Boy, was I wrong." — Vince Hanada, Home Theater Sound
Santa Barbara CA, Apr, 2004/Crowson Technology, LLC —- Crowson Technology, makers of the TES 100 (Tactile Effects System) proudly announce the release of the long anticipated A200 TES Stereo Amplifier. The A200 Amplifier is the perfect companion to the TES 100 Couch Kit, named Best Magazine's 2004 AV Accessory of the Year!
The A200 is an audiophile-grade amplifier proudly built in the USA, designed specifically to complement a TES 100 Couch or Chair Kit. The A200 includes a built-in 200Hz low-pass filter, delivers an incredible low frequency response down to 1Hz (+-1dB), and has a unique, high-end fit-and-finish that any discerning Home Theater enthusiast would proudly display.
All the experts agree that the TES 100 is the clear choice for those wanting to ratchet up their existing home theaters to the next level of visceral experience. Crowson delivers undoubtedly the most accurate flat frequency response, easy installation, and realistic motion available in a tactile transducer today.
Widescreen Review's Jeffrey Kern wrote:
"The TES 100…is more than just a "shaker device. The electromagnetic actuator also rolls, rumbles, and precisely translates the audio coming from the amplifier into a tangible (e)motional experience…by providing an extra dimension of immersion, not really seen or heard, but actually felt. No longer is someone just watching a movie anymore; with the advent of the TES 100 system, those who love home theatre can be placed very effectively within the experience."
• 85 watts RMS per channel @ 6 ohms
• 170 watts RMS bridged @ 6 ohms
• 5-way binding posts
• Dimensions: 19″ x 3.5″ x 7.5″
• Frequency Response: Down to 1 Hz (+/-1 dB)
• Input Sensitivity: <0.1V for Peak Output
• Weight: 12 lbs (5.5kg)
For more information about Crowson products, please contact us. Dealer inquiries welcome.
web: www.crowsontech.com
email: info@crowsontech.com
phone: (805) 962-9004