Stylish Music, Photo and Video Player Features microSD Card Slot and 1.45-inch Screen with Touch Buttons
Creative Technology announced the Creative ZEN Style M300 music, photo and video player with Bluetooth wireless audio playback. Just 55 x 44 x 12 mm in size, the Creative ZEN Style M300 is packed with features including a microSD card slot and 1.45-inch TFT screen with Touch Buttons, and it is priced from only $39.99.
The visually identical Creative ZEN Style M100 portable media player offers the same design and features without Bluetooth connectivity and FM Radio.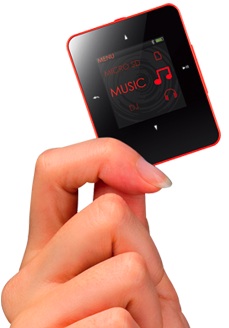 Key Features of the Creative ZEN Style M300
Wireless Connectivity with Bluetooth 2.1
This allows users to enjoy music from the player wirelessly from all compatible stereo Bluetooth headphones such as the Creative WP-Series, which includes the ultra affordable Creative WP-250, and Bluetooth speakers such as the all new ZiiSound Dx Series and Creative D80, as well as Creative's existing line-up of wireless speakers
Additional Space for Music with microSD Card Slot
Users can add up to 32GB of music on top of the player's built-in memory
Touch Buttons
The player's touch sensitive control buttons let users navigate through the player's menus easily and comfortably
FM Radio
The built-in FM Radio lets users add up to 32 preset stations
Both the Creative ZEN Style M300 and Creative ZEN Style M100 feature Audible support, giving users the option of enjoying a wide range of audio content that includes books of all genres. Both players also come pre-installed with a complete edition of Alyson Noel's Evermore, the first book in her thrilling Immortals series.
Creative ZEN Style M300 and Creative ZEN Style M100 are available in a choice of four colors: black, white, red or yellow.
Specifications
Creative ZEN Style M300
Creative ZEN Style M100
Display:
1.45″ TFT (262K colors)
1.45″ TFT (262K colors)
Bluetooth:
Bluetooth 2.1 wireless technology (supports A2DP & AVRCP)
N/A
Radio:
FM Radio function with 32 preset stations
N/A
Battery Life:
Up to 20 hours (based on 128kpbs, 4mins/song, MP3 file)
Up to 20 hours (based on 128 kpbs, 4mins/song, MP3 file)
Supported Audio Formats:
MP3, WMA (DRM9),WAV (IMA-ADPCM), Audible Format 4, Audible AAX
MP3, WMA (DRM9),WAV (IMA-ADPCM), Audible Format 4, Audible AAX
Supported Picture Formats:
JPEG
JPEG
Supported Video Formats:
Transcoded SMV (requires respective codec pre-installed on PC)
Transcoded SMV (requires respective codec pre-installed on PC)
Voice recording
Built-in microphone for voice recording
Built-in microphone for voice recording
Additional feature:
Clock display
Clock display
Capacity & Pricing:
4GB – $49.99
8GB – $69.99
16GB – $89.99
4GB – $39.99
8GB – $59.99
Availability:
June 2011
June 2011
Reviews Around the Web:

creative zen style
<!-comments-button-->