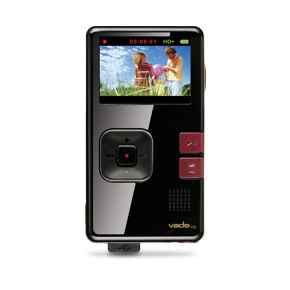 Creative's 2nd Generation Pocket Video Cam Works With Mac OS X; Available in 4GB or 8GB
Creative announced the availability of the second generation Vado™ HD with new Vado Central™ for Mac OS X, which will feature video transferring and direct to iMovie importing of Vado videos. The new Vado Central will be available for download in early September and is compatible with all previous Vado and Vado HD models. For updates and availability visit support.creative.com.
The new Vado HDs are available in two new color combinations, a 4GB glossy white with green accents, which holds up to 60 minutes of video and an 8GB glossy black with red accents, which holds up to 120 minutes of video. Both are available for pre-order starting today at amazon.com and creative.com for $179.99 and $199.99 respectively.
Feature
Description
Weight:
3.52oz (100 grams)
Dimension (H x W x D):
3.9″ x 2.2″ x 0.6″ (100 mm x 55 mm x 16 mm)
Memory size:
4GB1 / 8GB1
Sensor:
HD CMOS (1280 x 720)
Video quality (pixels):
1280 x 720
Low light performance:
Extremely high sensitivity at 3.3V/lux-sec
LCD:
50.8 mm (2″) diagonal, 16 million colors
Screen resolution (pixels):
640 x 240
Zoom:
2x Digital Zoom
Recording capacity:
8GB capacity : Up to 2 hours (HD+ quality), 4 hours (HD quality), 8 hours (VGA quality)
4GB capacity: 1 hour (HD+ quality), 2 hours (HD quality), 4 hours (VGA quality)
Digital video format:
H.264 AVI at 30 frames per second
Speaker and microphone:
Built-in
Software:
Built-in
TV out:
RCA, HDMI (HDMI cable bundled with 8GB model only)
Tripod mount:
Yes
Power saver:
Yes
Delete all, Play all:
Yes
Set Date/Time:
Yes
Set frequency:
Yes (50Hz or 60Hz)
PC connection:
Built-in flexi USB connector
Battery life:
2 hours2 3
Online sharing:
YouTube™, Photobucket™, Box.net
1 Memory includes built-in software.
2 Actual battery life will vary with use. Battery has limited recharge cycles and may eventually need to be replaced.
3 Vado battery and battery charger will not work with the Vado HD (2nd Gen).