Creative Technology introduced the D220W soundbar-styled speaker with Sound Blaster wireless transmitter, an easy to set up and use whole-home audio system that streams music from a Mac or PC to any room of the house.
Just insert the Sound Blaster Wireless into any USB port on your MacBook, MacBook Air, iMac or Windows notebook or desktop and you are ready to stream music wirelessly in the highest-quality from your computer to the Creative D220W speaker, which can be placed in any room of your home up to 100 feet away. Simply plug the Creative D220W into a power outlet and begin streaming your music library wirelessly from your computer to the speaker in high-quality in just a couple of minutes after taking it out of the box. No installation hassle, no network configuration and you don't have to make any changes to your music library. Unlike many whole-audio systems that have their own proprietary players, Sound Blaster Wireless enables you to stream music from iTunes and any and all other players, including Pandora, Napster and Hulu. Now you can listen to your music wirelessly anywhere in your home as easily and reliably and in as high-quality as if you were listening to speakers that are wired to your computer. With Sound Blaster Wireless, it just works.
The D220W is a sleek soundbar speaker with strong European styling, finished in high-gloss piano black. Designed with state-of-the-art amplifiers and precision drivers encased in a highly braced single shell chassis and engineered to minimize distortion, deliver deep bass, and sonic clarity, combining to make an excellent sounding soundbar speaker.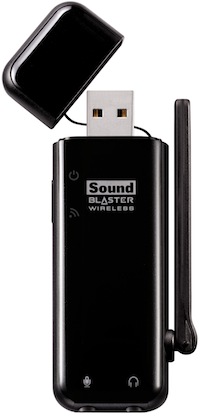 You can add as many additional D220W speakers as you like throughout your home, up to 100 feet away from your Mac or PC, and stream your music to each speaker simultaneously in high-quality. You can have a complete whole-home audio system at an incredibly low price, by simply adding these speakers whenever and wherever you like.
As you add additional speakers throughout your house, you can also add our award-winning GigaWorks T20W 2.0 wireless speakers. These speakers deliver well-balanced audio with sharp, detailed highs and robust mids, while the BasXPort delivers deep, rich bass. In addition, you can also add our Sound Blaster Wireless Headphones, which are high-quality, over-the-ear headphones, allowing you to enjoy your music privately anywhere in the house up to 100 feet away from your Mac or PC.
You can also stream your music outdoors to the ruggedized Sound Blaster Wireless Rock, our high-quality, rechargeable battery-powered, dual-stereo speaker camouflaged in a heavy-duty granite-like rock. While the rock blends perfectly into the background the sound quality of the music through the high-powered speakers stands out.
The Sound Blaster Wireless whole-home audio system supports any combination of the Creative D220W, GigaWorks T20W wireless speakers, Sound Blaster Wireless Headphones and the Sound Blaster Wireless Rock.
In addition to all of these high-quality Sound Blaster Wireless speaker systems and headphones the Sound Blaster Wireless system can stream to existing powered speaker systems or home entertainment system through a Sound Blaster Wireless Receiver, which is available at the low-cost of US $69.99. The Sound Blaster Wireless Receiver can be placed up to 100 feet away from your Mac or PC and receives the music stream and connects via a line-out cable to your speakers or home entertainment system.
Pricing and Availability
The Creative D220W speaker with Sound Blaster Wireless transmitter will be available in Q4 for US $169.99.