All Connected Business Series Designed Specifically for Small to Medium Businesses
CradlePoint Technology, a global leader in 3G and 4G networking solutions, announced the launch of a new product line, the All Connected Business Series, to service the small to medium office market. The debut product in the series is a new business-class router, the MBR1200 Failsafe Gigabit N Router, to provide high-availability to users of both traditional wired networks and wireless networks using 3G and/or 4G services.
As the name suggests, the MBR1200 has a key built-in "failsafe" feature that senses when the wired Internet connection has been disrupted and automatically fails over to either a 3G or 4G service, whichever is present, keeping users working with virtually no interruption to their Internet access. Once the wired Internet service has been restored, the MBR1200 will then fail back to the wired Internet service.
"This is our debut product in the All Connected Business Series, designed with the small to medium office in mind. The MBR1200 makes it easy for the business user to add a truly redundant Internet connection to their system today in a matter of minutes, at a fraction of the cost," stated Ryan Adamson, COO and Co-Founder of CradlePoint. "And through our WIPipeTM technology we protect your current investment well into the future."


Features of the MBR1200 Failsafe Gigabit N Router include;
3G and 4G compatibility with ports for every type of mobile broadband modem (three USB, one ExpressCard and one PC Card)
Supports more than 110 modems from all major U.S. carriers
Five 10/100/1000 (one WAN and 4 LAN) Ethernet ports
Failover/failback for easy redundant Internet connections with or without wired Internet service
Secured by Stateful Packet Inspection (SPI), 64/128 WEP, WPA, WPA2 and Network Address Translation (NAT)
Creates, manages and terminates multiple IPSec VPN sessions
High performance internal antennas plus two external Wi-Fi antenna ports
802.11n for broadest range and best throughput
Pre-installed firmware so users have no software to load
Optional: Modem security cap offers the flexibility to choose service from any carrier and secure the modem(s) similar to embedded solutions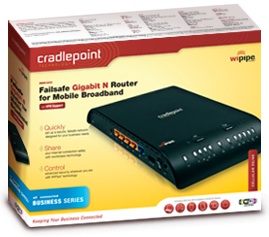 "The MBR1200 provides greater support for modems, connection types and business-class features than other routers at two or three times the price," said Adamson. "It's a perfect solution for businesses on a budget which still need all the functionality of larger enterprises."
The MBR1200 Failsafe Gigabit N Router is available now with an MSRP of $299.99.
About CradlePoint Technology
CradlePoint engineers and manufactures cellular routers and software platforms that facilitate secure mobile computing via the 3G and 4G mobile broadband networks. CradlePoint's unique WiPipe™ technology provides access and traffic management to improve the security and quality of the online mobile experience. CradlePoint is a privately held company with headquarters in Boise, Idaho.