Using just STEREO input, the sound bar is capable of re-creating a real 3D listening environment
sonic emotion, the leading provider of 3D sound technologies, and US electronics giant Coby, will introduce the first sound bar capable of re-creating a real 3D sound environment at CES 2010.
"It's the first sound bar on the market that plays 3D sound from simple stereo input," said Andy Macaluso, sonic emotion Vice President of Sales and Marketing. "Most of the audio we consume is stereo: It doesn't matter if you're listening to your iPod, watching Desperate Housewives or football, with the new Coby sound bar audio comes to life around you in 3D and you don't hear the device," he said.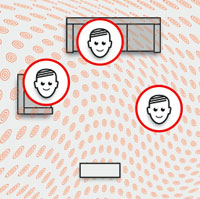 The secret behind the swiss-made technologies ability to create a 3D sound stage in any room lies its use of wave field synthesis – the first consumer audio technologies to use it. With wave field synthesis, real sound waves are re-produced creating the illusion of sounds originating from all around and eliminating the need for multiple speaker and cable setups and limited listening zones: "There's no limitations of listener positioning or number of listeners," said Macaluso.
About sonic emotion:
As the leading provider of 3D sound solutions, sonic emotion develops groundbreaking technologies which epitomize performance and simplicity. Success in both areas of consumer technologies and in designing and installing state-of-the-art 3D sound systems in cinemas, theme parks, theaters and clubs has significantly lifted the company's reputation in the international electronics market and opened the doors to a new era of audio realism.