Photo: Cobra XRS 9970G – World's First Full Color Touch Screen Radar Detector
Cobra Electronics Corporation announced the launch of the world's first touch screen radar detectors as part of its 2010 line of detection systems. The two new touch screen models simplify user setup and alert settings. In addition to the touch screen models, Cobra is introducing the first radar, laser and safety camera detector priced under $200.
The new XRS touch screen models, XRS 9970G and XRS 9965, feature a 1.5″ full color graphic interface that makes setting up the radar detector fast and easy. Simply tap on the "menu" screen tab and scroll through the menus to set user settings such as the display colors, city/highway modes, IntelliMute™, Frequency Display Mode and other preferences, as well as the alert settings including turning on or off POP Mode, the detection of certain Bands and Low Car Battery Warning.
"The most inconvenient part of purchasing a new radar detector was setting it up," said Tony Mirabelli, senior vice president of marketing and sales for Cobra. "With the new touch screen models, we've removed the fumbling through button combinations to make changes. Just tap and set."
In addition to the touch screen interface, the new XRS 9970G also features enhanced AURA™ Camera Driving Hazard Database capabilities, plus IntelliView™ Pro which displays a photo-enforced alert as well as the speed of the vehicle if under radar surveillance.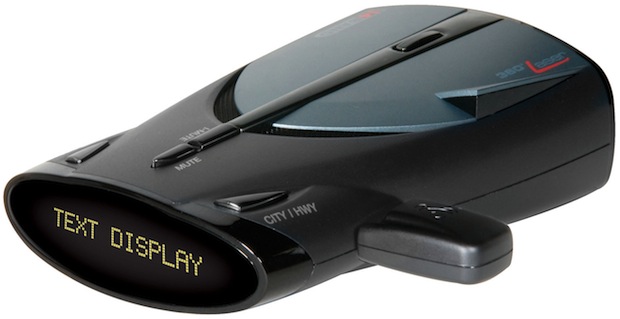 Photo: Cobra XRS 9550G
Also new for 2010 is the XRS 9550G radar, laser and safety camera detector. This is the first full detection system under $200 that features 14 Bands of detection, Voice Alert™, POP detection and a lifetime subscription to the AURA™ Camera and Driving Hazard Database.
The AURA database stores GPS coordinates of speed and red light cameras and driving hazards. Users can access this database online and download daily updates 24 hours a day, 7 days a week. By simply connecting the GPS Locator via USB, AURA subscribers synchronize the coordinates for the most current and accurate camera and dangerous intersection alerts. Drivers can also add up to 1,000 location-based alerts to ensure that they are alerted to temporary or moveable driving threats.
Cobra's 2010 line of radar detectors feature eco-friendly packaging and will be available at retailers nationwide and at www.cobra.com beginning March 2010. These new radar detectors have a suggested retail price range from $199.95 to $379.95.