Simply connect Clickfree to your computer and it will automatically find, organize, and copy photos, videos, music, and hundreds of other file types. One drive can backup multiple computers, Mac or PC. There is no need to copy and paste files manually, or install any software — it's truly automatic.
Clickfree, the inventors of Effortless Backup, announced the launch of C2 its new flagship portable hard drive. With C2, Clickfree once again redefines consumer backup by bringing together an amazing set of features that have never before been available in a single backup product. Without adding complexity to Clickfree's signature approach, consumers will now be able to automatically import music from iPods and iPhones, burn backed up files to CDs and DVDs, extract and organize all email attachments and protect files with encryption. All these new features in a beautiful high-gloss unit with a built-in USB cable makes it the most portable drive on the market.
New product features in the C2 include:
Redesigned Interface: Clickfree has reworked automatic backup and restore into an even simpler process, designed so that even the least technically savvy will be totally comfortable backing up their computer. Included in the many new features is a search page that shows a summary of new and changed files as it finds them.
Built-in USB Cable: Snapping securely into place, there's no cable to lose, and no tangled mess to fuss with in a briefcase. The ultimate convenience for quickly sharing content, just plug the C2 into any computer to simply view and share files. There's even an optional docking station available to keep desks tidy.
iPod Music and Playlist Import: Clickfree has included this great feature from its popular Transformer for iPod. When C2 is connected, users will be able to plug any iPod or iPhone into another USB port on the computer, and the C2 will import music and playlists from the device right into iTunes.
Migration: Clickfree is the only backup solution for simple, hassle free migration between computers or when upgrading operating systems. With the launch of Windows 7, many people will need a simple and efficient way to transfer files. Clickfree's intuitive software will transfer your files to exactly where they need to be – even if it's a new computer with a new operating system and the file structure has changed. This means your applications will find your digital content without additional confusing work.
Encryption: C2 customers can be confident their data is secured with powerful encryption technology by simply entering a password. The C2 uses 256-bit hardware-based encryption – a very high grade of security to ensure that no one will be able to access data files without the password. By using a hardware-based solution – a chip inside the hard drive itself – the C2 handles all of this without slowing down your computer or backup.
Use it for Backup or Storage: Free space on the C2 drive can be used as portable storage, just like any other external hard drive.
DVD burning capability: Customers wanting to create an additional DVD backup for another location like a safety deposit box can now do so easily with the built in DVD backup feature. It is ideal for users who want the added comfort of having an additional snapshot of their files without having to install or learn complex archiving software. Clickfree recommends two backups for the ultimate data protection and we make both effortless.
Sharing: Easily share photos and other digital media. With the software built right in, users can simply plug the drive into any computer to view or transfer photos quickly and easily. From the rich photo viewer, users can see their photos, and with built in software tools they can effortlessly set these photos as wallpaper, print, email, or share onto facebook or myspace.
Scheduled backup: Leave the C2 plugged in, and it will continue to backup your computer all day.
"We already had a great backup solution that had superior user-friendly features; we wanted to go beyond that. We listened to the needs of our consumers and added features that would add to the Clickfree ultimate backup experience without straying from our core simplicity. With C2 we found a way to enhance our award winning back-up technology while preserving our heritage of super simple backup," said Bryan McLeod, Clickfree CEO. "It's still as simple as connecting your C2 to a computer and watching as the technology starts itself without any installation or setup. We continue to stand above our competition in terms of features combined with simplicity – this is why our highly rated Clickfree solutions continue to win over consumers — by making computer backup effortless."
After being connected to a computer, Clickfree technology shows a simple countdown then proceeds to search, organize, and copy your precious data onto the C2 backup drive. Files are organized into categories like photos, videos and email attachments – and each category can be individually viewed to confirm the backup is complete.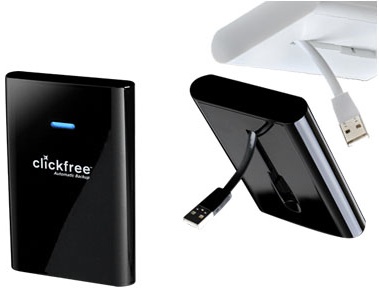 For those who would like to dig a little deeper, Clickfree gives customers the option to configure your backup. Simply connect the USB cable and let C2 automatically begin or easily select what you want backed up by choosing "Options." The simple interface allows users to determine which content they would like saved. Like other Clickfree products, the Clickfree C2 can easily backup multiple computers, with each backup identified clearly by computer name within the Clickfree software.
Highlights
Clickfree Automatic Backup
Backup Multiple Computers, PC or Mac
Transfer to new computers, Windows 7, or PC to Mac
Built-in USB cable
Import iPod Music and Play Lists
Extract email attachments
Share photos to Facebook, Myspace or Flickr
High-gloss black or high-gloss white finish
Optional Dock (sold separately)
About Clickfree:
Storage Appliance Corporation, operating under the Clickfree™ brand, makes technology easy for consumers. As the inventor of effortless consumer backup, the Clickfree™ software makes backing up a PC or Mac as easy as plugging it in to the USB port – no software to install or configure. Recognized as the market leader in consumer backup, Clickfree has received numerous awards from CNET™, PCMag™ and Laptop™ magazine. Clickfree's software is not just easier – it's smarter. With 23 patents pending, this exclusive technology is only available to Clickfree™ customers.