Offers Unlimited Internet-based Navigation and Multimedia Options
Clarion Corporation of America (Clarion), a global leader of mobile electronics, announces feature enhancements to the ClarionMiND. The ClarionMiND, which launched in November 2008 is an industry-leading portable device offering premium connected-navigation features, full Internet browsing and social networking.
The ClarionMiND already features the wireless internet-enabled Send POI from Google Maps feature, but will also soon add Local Search from Google Maps, Traffic Alert supported by Traffic.com as well as Music Streaming and Download Service supported by MP3tunes .
ClarionMiND is a robust, high-performance portable navigation and computing device powered by the Intel Atom™ processor. Always accessible Internet connectivity via Wi-Fi or Bluetooth, when paired with a mobile phone, offers limitless possibilities while in the home, office or on the go. In addition to the Intel, Atom™ processor, the ClarionMiND's large, wide, high-resolution screen capabilities make applications such as a full web browser, MySpace, You Tube and Map Viewer simple and pleasant to use. One of the best features of the ClarionMiND is that it can be continuously upgraded to expand its capabilities via the Clarion portal site, http://my.clarion.com/. This allows users to always have the latest software, news and information.
The new Send POI from Google Maps is an extremely convenient feature. It enables anyone with a web browser to send destinations to the ClarionMiND, completely wirelessly. Using any PC Web Browser or the ClarionMiND device, a desired location is selected within Google Maps and, using the send link, the user selects the desired destination device. The selected search result is instantly sent and then received once the ClarionMiND unit syncs to the portal site. Best of all, the navigation application will automatically keep a log of downloaded POIs and direct you to the location.
Several other innovative and exciting features will soon be available to ClarionMiND users. The powerful new Local Search from Google Maps feature ensures POI search results will always be fresh and new. Using either the Wi-Fi or Bluetooth tethering feature, the ClarionMiND device wirelessly connects via the Internet to download search results from the Google database. This dynamic content offers virtually limitless and continually – updated information thus overcoming the natural limitations of non-connected navigation devices.
In an industry first, the Google search results will be plotted directly on the map of the ClarionMiND device. This new unique feature was developed in cooperation with Clarion, Google and Nissan Motor Company.
On the multimedia front, the Music Streaming and Download Service supported by MP3Tunes offers personalized off-board music storage via a personal, secure server-based locker holding each user's unique music content accessible by their own ClarionMiND. Music Locker ClarionMiND Edition is a web-based music management player, which enriches the listening experience by providing additional information on the artist tied in from the AMG database. Music Locker ClarionMiND Edition has functions especially suited for the screen size of ClarionMiND and to link YouTube, Amazon.com and Wikipedia. Music Sync is a download manager with playlist sync functions, exclusively developed for the ClarionMiND. With Music Locker ClarionMiND Edition and Music Sync, you can listen to your favorite music on the server anytime and anywhere.
Soon new features providing traffic updates will be available, with Traffic Alert widget and TrafficOne™ provided by Traffic.com. Traffic Alert widget offers real-time traffic information for your daily route in synchronization with TrafficOne™ for registered ClarionMiND users via MyClarion.com. This is just one more way ClarionMiND can help navigate the way using wireless data streaming.
The ClarionMiND is now available, with several new and exciting features launching soon.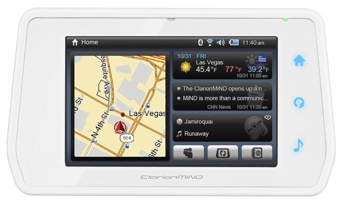 ClarionMiND Features: M.S.R.P. $699.99
4.8″ WVGA (880×480) LCD display with Touch-Screen
Intel Atom™ Processor
800MHz Clock Speed
512MB DRAM
4GB SSD Flash Memory
Built-in Wi-Fi IEEE 802.11 b/g
Built-in Bluetooth 2.0 + EDR Dial-up Networking (tethering)
Built-in GPS Antenna/ Receiver
Built-in Amplifier and Speaker
Rechargeable Battery
2 USB Ports (Standard/ Mini)
Headphone Jack
microSD Card Slot
One Touch Keys
Docking Station Connector
Access to the Clarion portal site, http://my.clarion.com/
For updates and expanded capabilities
About Clarion:
Clarion Corporation of America, headquartered in Cypress, California, is a subsidiary of Tokyo-based Clarion Co. Ltd., which joined the Hitachi-group companies as a consolidated subsidiary in 2006. Clarion Corporation of America ranks among the top 150 North American OEM Suppliers and is recognized by an independent research firm for the highest customer satisfaction for 6CD radios in new vehicle's sold in the U.S. Clarion, an international leader in mobile electronics since 1940, conducts research, development, engineering, design, manufacturing, sales and marketing of vehicle entertainment, navigation, rear vision, communications and security products for the automotive, marine and recreational vehicle environments. Clarion has over 10,000 employees worldwide and 12 factories in 10 countries, with marketing and sales affiliates in Europe, North and South America, Asia and Australia.