Cisco Valet Plus: Model M10
Breakthrough Simplicity Makes Wireless Accessible for Everyone
Cisco has introduced the Valet™ — a breakthrough new product line that makes home wireless simple and accessible for everyone. Valet is designed to transform how families use the Internet in their homes so they can enjoy the freedom of wireless access without the traditional frustration and complexity of setting up a home network.
"Valet is home wireless made easy," said Jonathan Kaplan, senior vice president and general manager of Cisco Consumer Products. "With complementary backgrounds and expertise, our Cisco and Flip teams have combined forces to change the rules for home wireless with a product line that empowers consumers to easily set up, enjoy and manage all of their wireless devices anywhere in their homes."

Cisco Valet: Model M10
Quick Set-Up and Simple Management

Cisco Connector
Valet is the first wireless product line to make it simple for anyone to set up and manage their own home wireless network. Consumers simply insert the included Easy Setup Key right into a USB port in their PC or Mac and the Cisco Connect software takes over. Unlike other wireless products that require 20 to 30 complicated steps to set up a single computer, Cisco Connect takes you through three steps from start to finish. The Easy Setup Key retains all setup information and can be easily inserted into additional home computers to seamlessly add them to the home's wireless network.
Personalized Wireless Experience
Once set up, Valet gives consumers a simple way to manage their family's home wireless experience. The included Cisco Connect software makes it easy to:
add additional devices to the network
set parental controls
provide Internet access for guests on a separate guest network
customize personal security settings such as passwords
Valet also provides a new level of control for parents with simple tools to manage their family's online experience. Valet's Cisco Connect software lets parents easily set controls on the fly, so they can modify web usage for certain days and times of the week, or even for temporary periods. For example, if teens are spending too much time on social networks or gaming systems, parents can modify their wireless access so that they cannot go online after 9:00 pm on weeknights. Internet access for each personal device connected to a Valet – from a computer, to a gaming system, to a smartphone – can be individually controlled or changed as needed for the particular child or teen, including blocking inappropriate web content.
In addition, Valet makes it easy to set up guest wireless access when friends or family come to visit. With a completely separate wireless connection, guests can use their laptops or mobile phones around the house, while the main Valet home network remains secure and private.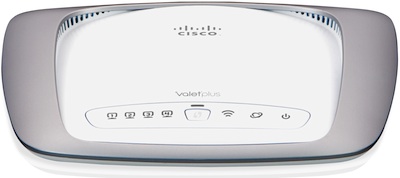 Cisco Valet Plus: Model M20
Price and Availability
The new Valet line is offered in two models — Valet and Valet Plus — based on the size of the home and the mix of wired and wireless devices. In addition, there is a simple Valet Connector to update older computers without built-in wireless capabilities or to upgrade to Wireless-N. Valet users have access to Cisco's award-winning 24/7 phone support in the unlikely event they have a question or problem. The Valet product line is available immediately at Amazon, Staples, thevalet.com and soon at Best Buy, Target, Wal-Mart and other leading retailers.
| | | |
| --- | --- | --- |
| Valet | For small to medium-sized homes with primarily wireless devices. | MSRP: $99.99 |
| Valet Plus | For medium to large-sized homes with a mix of wireless and wired devices. | MSRP: $149.99 |
| Valet Connector | Upgrades an older computer to wireless and ideal complement to Valet or Valet Plus. | MSRP: $79.99 |