chumby industries announced the chumby8, an 8-inch LCD touchscreen Internet connected device the can be a stand-alone app player, personal media player, digital photo frame, music player and even an alarm clock.
chumby takes your favorite parts of the internet and delivers them to you in a friendly, always-on, always-fresh format. It's a window into your internet life that lives outside your desktop, so content like weather, news, celebrity gossip, podcasts, music, and more has a place to play away from your world of documents and spreadsheets. Just plug in your chumby, connect to your network, and use your computer to create a lineup of favorites from over 1,500 apps in more than 30 categories, with new ones arriving all the time. Then let your chumby do its thing — streaming everything you like, from sports scores to stock quotes, from video clips to interactive games, from photos to trivia. Content is available from well-known media sites including: YouTube, Facebook, Twitter, MTV Networks, Groupon, People.com and many others. Users can monitor their social networks, view and share their photos from sites like Flickr and Photobucket, watch sports clips, play games, or choose from a multitude of clock applications to display on the touchscreen device.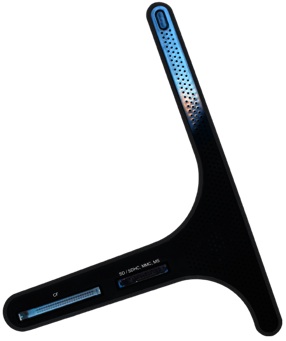 "The chumby8 truly marks an evolution of the chumby device and software platform, creating a more personalized and user-friendly Internet streaming device that will complete any connected home or office," said Derrick Oien, CEO of chumby industries. "We've taken the time over the past year to listen to chumby fans and owners and incorporate their feedback into the new chumby8 and created a great multi-purpose connected device capable of tailoring to all."
New features of the chumby8 include:
New, modern industrial design available in black and red. Customized skins available from Skinit
8-inch 800×600 touchscreen LCD
Two USB ports, CF and SD slots make it possible to upload pictures, music and other personal media of your choosing turning your chumby8 into a personalized digital photo frame and music player
New web browser support, allows you to access links within apps
Revamped UI and streamlined navigation allows you to manage apps and channels directly from the device. The chumby8 comes preloaded with ready-to-play themed channels showcasing the best chumby apps in entertainment, news, humor, games, kids, sports and more
Updates to share features make it easier to send photos, videos and apps to friends and family
Robust Internet radio offers over 10,000 internet radio and podcast stations, including Napster, Pandora, SHOUTcast, iheartradio, Mediafly, New York Times and CBS, with more to come
Full alarm system allows you to wake up to your favorite music stations and apps
Task scheduler allows you to perform a routine task on your device like entering night mode at a certain time or playing music.
Flash Lite 4 update to support AS3 coming soon
Price and Availability
The 8-inch chumby8 will be available on April 5th for $199.95.
The 3.5-inch chumby one device is available now for $129.95.
Reviews Around the Web:

chumby8 internet media