Compact camera based on a new design concept — which makes it simpler to use
Design achieves a lightweight, yet durable image
Designed to fit the concept of "Sleek & Sturdy," this camera has a compact form, measuring just 3.8″ wide x 2.2″ high x .7″ thin. The edging that frames the body presents a light, casual feel, but at the same time gives the user the sense that this camera is tough and reliable. In addition, the camera color is not limited to a single hue. Rather, the control panel, frame, and rear casing boast contrasting colors, presenting a whole new idea in camera color schemes. This EX-S5 weighs a mere 5.2 ounces excluding the battery, making it sleeker and slimmer than other entry-level cameras on the market.
An effective 10.1-megapixel camera with a 3X optical zoom lens
In addition to offering the ability to reproduce a detailed image of the subject, this camera is very responsive and easy to operate. It has an effective 10.1-megapixel resolution, and delivers excellent performance. Images taken at high resolution can be enjoyed as beautiful photographs whether printed large or cropped before printing.
Easy-to-see 2.7-inch widescreen LCD
This camera features an easy-to-see widescreen 2.7-inch LCD monitor. Shooting information is shown in an "operating panel" on the right hand side of the screen, which makes it easy to quickly change camera settings while shooting.
Fun widescreen movie recording
Just by pressing the movie button, widescreen movies can be recorded with an aspect ratio of 16:9. The camera also offers YouTube Capture Mode, which records and saves movies at the ideal settings for the world's largest video sharing site, YouTube. Recorded video can be easily uploaded to YouTube using the special included computer software.
Customizable focusing frames and menu screens
Focus frames
As well as the rectangular focusing frame usually displayed on the LCD monitor, users can choose designs such as a heart or a butterfly for the frame design. When the camera is correctly focused, a beautiful heart can be displayed, and when correct focus is not achieved the heart pattern breaks up. This makes it easy to ensure correct focus, and it is fun, too.
Menu screens
Menu screens can be freely selected from a total of six colors — black, chocolate, cinnamon, rose, sky blue and olive green.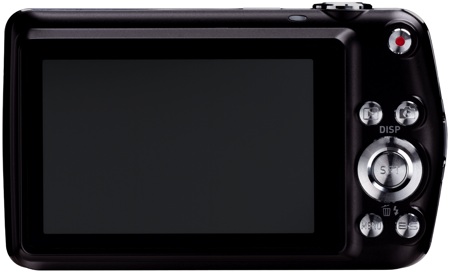 The EX-S5 will be available March with an MSRP of $179.99. The EX-S5 will come in exciting new colors like blue, black, silver, pink and purple.