Industry's First Model That Make Composite Moving Images
Casio America, Inc. and its parent company, Casio Computer Co., Ltd., released some exciting details about its upcoming digital camera models today. Soon to be released, the EX-S12 can make the most of Casio's high-speed image processing engine to enable users to cut and paste moving subjects onto still backgrounds.
Casio has been a pioneer in digital cameras for over ten years. The new models maintain Casio's long tradition of innovation and creativity. In 1995, Casio introduced the QV-10, the world's first consumer digital camera with an LCD monitor so users could view the images they had just taken. In 2002, the company released the EX-S1, a card-sized camera so thin that it could be carried anywhere. In 2008, Casio launched the highly anticipated EX-F1 and EX-FH20, boasting high-speed burst shooting capabilities to ensure that users would never miss a crucial moment again, not to mention the ability to record high-speed movies that capture motion too fast for the human eye to perceive.
Taking advantage of the high-speed image processing abilities of Casio's state-of-the-art EXILIM Engine 4.0, which is built into these models, the new Dynamic Photo function allows the photographer to cut out the main subject of interest in an image that has just been captured and then combine it with another image to form the background. Users can also cut and paste several rapid-succession images to create a moving subject on a still background. This function makes it easy for users to create composite scenes from an image juxtaposition that exists only in virtual reality, or they can create a composite image that conveys a certain message. Casio technologies like these are creating whole new avenues of enjoyment that go far beyond mere picture-taking, delivering greater creative and viewing pleasure.
Casio has set up a special website (www.exilim.com/dp/) that demonstrates many interesting ways to use the Dynamic Photo function. Following the release of the camera, Casio will offer new services that expand the fun of the Dynamic Photo function
"Casio is dedicated to designing new technology that lets us create features like Dynamic Photo in our digital cameras," said Bill Heuer, Vice President of Sales for Digital Imaging Division at Casio America, Inc. "We continue to be a leader in the digital camera market, providing unique and convenient ways to capture special moments."
The EX-S12, available in April, will have an MSRP of $249.99 and will be offered in silver, pink, green and black colors.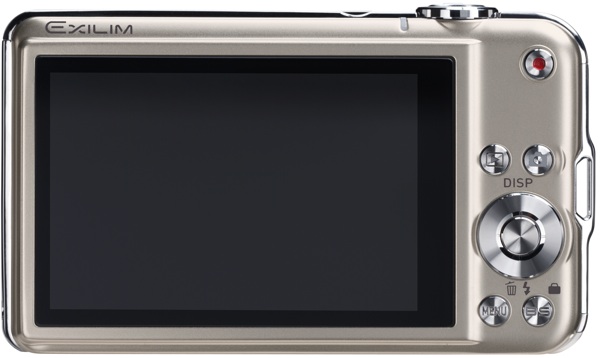 Casio EXILIM EX-S12
New high-speed image processing engine allows moving subjects to be cut and pasted onto still backgrounds or other images
This camera has a stylish body measuring just 3.7″ wide x 2.1″ high x .6″ thin (.5″ at the thinnest part). It boasts a 3X optical zoom and a super clear, 2.7-inch widescreen LCD monitor and has an effective 12.1-megapixel resolution. It is finished in a design with both the high-class feel and beauty of stainless steel.
Newly developed EXILIM Engine 4.0 built in
The EXILIM Engine 4.0 is a powerful electronic package comprised of an ordinary CPU and a high-speed dedicated image processing CPU. It delivers outstanding color reproduction and a rich tonal range that guarantees superior visual expression. Noise reduction at high-sensitivity levels also helps to produce high-quality, beautiful images. The new engine successfully combines the pursuit of radical new functionality with improvements to many conventional camera features.
Lighting Function
The S12 features a lighting function that allows the user to select on, off or extra. This feature compensates for shadows and darkness. It will add more light to these areas without washing out the image in the more well-lit areas.
Dynamic Photo function, where the subject moves against a still background
Thanks to the high-speed image processing capability of the new engine, a moving subject can be cut out of a number of images that have been shot and combined with a different still shot that forms the background. A unique digital camera image where only the main subject in the photo is moving can be created using just the camera, with no editing on a computer.
Other functions that utilize the new image processing engine
Tracking AF
Using the image analysis technology in the new engine, the ability of the auto focus function to automatically follow a moving subject has been refined. In addition to improvements to the accuracy of auto focus tracking, when a subject leaves the frame the camera makes a record of it, and when the same subject once again enters the frame it is recognized by the camera, and auto focusing is resumed.
Makeup function
In addition to recognizing faces and adjusting focus and exposure accordingly, these cameras can make adjustments to smooth skin in images and soften facial shadows caused by sunlight, creating beautiful photographs of people's faces. The photographer can choose from one of twelve levels of skin beauty using different strengths of image processing, and can shoot after viewing the results in the LCD monitor.
HD Movie function
Just by pressing the dedicated movie button, these cameras will record beautiful HD movies at a size of 1280×720 pixels.