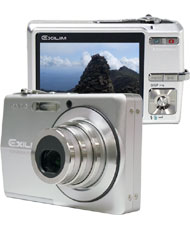 New Features Include Auto Framing and Layout Shot Modes
Casio, Inc. and its parent company, Casio Computer Co., Ltd. announced today the release of the EXILIM Zoom EX-Z700, the latest addition to its stylish series of EXILIM digital cameras. This newest member of the EXILIM family combines the high-resolution performance of an effective 7.2 megapixels with Casio's Super Bright LCD for easy viewing in broad daylight.
The EX-Z700's Super Bright LCD is both big and bright: the 2.7-inch screen with 1200cd/m 2 brightness is easy to see, even on a sunny day. At 7.2 megapixels, the high-performance EX-Z700 ensures crystal-clear image output for both printing and screen, delivering extraordinary photographic detail. The long-life battery packs enough power for around 460 still images on a single charge, and the camera comes with Casio's Anti Shake DSP to reduce photo blur due to shaky hands or moving subjects. All in all, the EX-Z700 strikes an extremely attractive balance between slim, stylish looks and high-performance functionality. It also adds brand new picture-taking functions in BEST SHOT mode.
New BEST SHOT Modes
• Auto Framing
Casio's new Auto Framing mode keeps dynamic subjects like playful, active children at the center of the photograph, solving one of photography's most perplexing challenges. This original new function is based on Casio-developed "auto-follow" technology for tracking the movement of photo subjects. In Auto Framing mode, a thin, outlined frame appears on the LCD, centered on the moving subject of the photo. The area within the frame indicates the image that will be saved when the shutter is fully depressed.
• Layout Shot
With new Layout Shot mode, photographers can combine multiple shots of friends taken with the same scenic backdrop into a single collage, or even mix shots with different compositions to create a single artistic layout. Users simply select one of two predefined layout templates, then take two or three photographs, and save the results to create a single composite image. Layout Shot delivers a whole new way to enjoy expressive photography.
Key Features of Superior Performance
7.2 million effective pixels; 3X optical zoom
Large 2.7-inch LCD with a brightness of 1200cd/m 2 *1
Takes up to 460 still images on a single charge of the long life battery *2 (CIPA standard)
Anti Shake DSP for reducing photo blur due to shaky hands or moving subjects
BEST SHOT modes deliver great photo results simply by selecting one of 37 sample images to represent the current photo scene.
*1. On the highest brightness setting, measured at the center of the screen.
*2. With LCD display set to standard brightness
Exclusive to the Casio EXILIM line of digital cameras in the U.S., is the eBay Best Shot mode. The eBay Best Shot is the 23rd of 37 in the EX-Z700 and is currently incorporated into six EXILIM model digital cameras. eBay Best Shot takes photos at a size that is image optimized for display on eBay, allowing picture takers to more quickly and easily create photos for selling items on eBay. eBay Best Shot mode also includes Auto Macro, an ideal setting for capturing images of small items such as jewelry, tags, etc., thus automatically adjusting the focus from acquiring fine details in close up shots to capturing large items from a distance. eBay Best Shot mode allows users to capture optimized images at an ideal size for eBay.
"We are proud to introduce the latest addition to our award winning EXILIM series of stylish and compact digital cameras," said Bill Heuer, Senior Vice President of Sales for Casio's Digital Imaging Division. "The EX-Z700 embodies Casio's continuing commitment to offer digital camera users cutting-edge technology and convenient user-friendly functionality in a small, stylishly designed package. Providing the freedom to take high quality pictures and movies anywhere, anytime, the new EX-Z700 makes taking memories as easy and fun as making them," he continued.
The EX-Z700 will have a suggested retail price of $299.99 and will be available in September in blue, silver and gray.