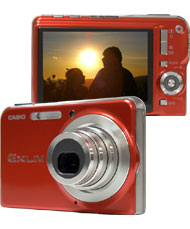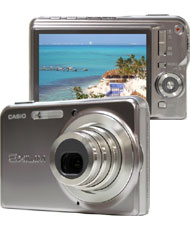 Features Wide-Aspect Movie Recording and Data Storage Function
Casio, Inc. and its parent company, Casio Computer Co., Ltd., announced today the release of the EXILIM Card EX-S770 . This latest addition to the stylish EXILIM digital camera series is a powerful digital camera packed with advanced functions.
The attractive EX-S770 shoots 7.2-megapixel still images and records high-quality movies in MPEG-4 format. In addition, it features Casio's Super Bright 2.8-inch wide-screen LCD but still retains the ultra-slim card size of its predecessors. Its impressive wide-screen display employs a 230,000-pixel LCD that clearly displays images and information down to the smallest detail, and boasts a maximum brightness of around 1100cd/m 2 — more than bright enough to see outdoors on a sunny day. Casio has also added new functions to make the most of the EX-S770's new wide screen.
The high-quality stainless steel body of the EX-S770 is the epitome of design elegance and ensures ease of operation as well, while maintaining all the slimness and beauty the EXILIM Card line is renowned for. The EXILIM Card EX-S770 is available in three exciting colors: silver, blazing red, and graphite blue.
New Functions
• Wide-Aspect movies
In addition to high-quality, VGA-size movies in MPEG-4 format, the EX-S770 can record 16:9 aspect ratio movies compatible with wide-screen TVs, which are growing in popularity. The camera records impressive movies with a simple press of the movie button. There is no need to change modes. It also features an electronic anti-shake function that delivers beautiful movies by minimizing blur from shaky hands.
• Data Storage function
The included Data Transport software enables computer data — including business documents, e-mail, and Web pages — to be automatically converted to JPEG format and transferred to the camera. For instance, tourist attractions and maps that users have looked up on the internet can be viewed on the camera's LCD, eliminating the need to carry around a guidebook. The camera also includes PHOTO TRANSPORT for transferring stored photos in a PC to the camera.
Key features for superior performance
7.2 million effective pixels; 3X optical zoom
Super Bright 2.8-inch wide-screen LCD
Anti Shake DSP for reducing photo blur due to shaky hands or moving subjects
BEST SHOT modes deliver great photo results simply by selecting one of 35 sample images to represent the current photo scene
Exclusive to the Casio EXILIM line of digital cameras in the U.S., is the eBay Best Shot mode. The eBay Best Shot mode is the 22 nd of 34 Best Shot Modes in the EX-S770. eBay Best Shot takes photos at a size that is image optimized for display on eBay, allowing picture takers to more quickly and easily create photos for selling items on eBay. eBay Best Shot mode also includes Auto Macro, an ideal setting for capturing images of small items such as jewelry, tags, etc., thus automatically adjusting the focus from acquiring fine details in close up shots to capturing large items from a distance. eBay Best Shot mode allows users to capture optimized images at an ideal size for eBay.
"We are very proud of the strides we have taken with the new EX-S770 digital camera," said Bill Heuer, Senior Vice President of Sales for Casio's Digital Imaging Division. "The EX-S770's new functions enhance photo taking and allow consumers to upload data from their computer right to the camera", he continued.
The EX-S770 has a suggested retail price of $379.99 and will be available at retail in September.