Casio announced the 14.1 effective megapixel digital camera featuring a wide-angle 24 mm 10X optical zoom lens and a 3.0-inch Super Clear LCD screen with a high resolution of approximately 460,000 pixels. The camera is also loaded with advanced standard features including CCD-shift image stabilization, long 1,000-shot battery life on a single full charge, and the high-resolution HD Movie function.
Dynamic Photo Animated e-Greetings (Place your subject on any background)
Thanks to the high-speed image processing capability of the new engine, a moving subject can be cut out of a number of images that have been shot and combined with a different still shot that forms the background. A unique digital camera image where only the main subject in the photo is moving can be created using just the camera, with no editing on a computer.
1,000 Shot Battery Life (3X battery life)
Casio has reduced energy consumption by improving the circuitry and operational controls and designing a higher capacity battery, enabling the user to take 1,000 shots on a single full charge. The long-life battery gives users approximately 11 consecutive hours of viewing on a single charge.
Premium Auto
Premium Auto enables the camera to automatically analyze the scene being photographed – including distinguishing night scenes, back lighting, a blue sky, green trees or a sunset – as well as sensing whether there is a face in the frame, the movement and position of the subject, and whether a tripod is being used. It simultaneously optimizes settings for exposure, ISO, sensitivity, focus location, photo blur correction, tonal range and color balance, and level of noise reduction.
10x Ulta-wide Zoom Lens (24mm)
Packs a 10X optical zoom lens, large 3.0-inch monitor and a CCD-shift image stabilization mechanism into such a slim, compact camera body, just .96″ thin, convenient for travel. With ultra-wide angle starting at 24 mm (35 mm film camera equivalent) all the way up to 10x telephoto zoom, the photographer is ready for any scene.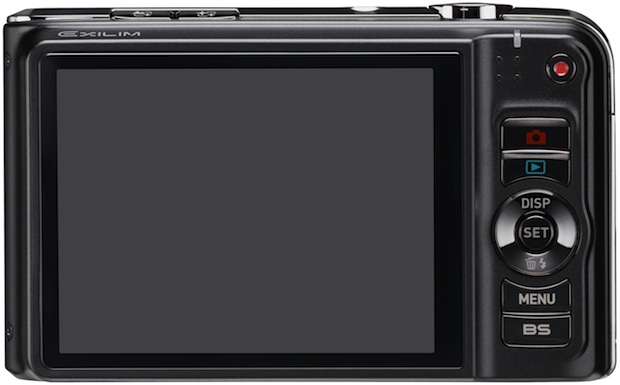 Art Shot
Makes use of the image processing technology in the Exilim Engine 5.0 to create photos for scenery or human subjects that have the feel of a painting. The view in the LCD screen of the subject in front of the user can be switched between and oil painting, a crayon drawing, or a watercolor picture, allowing the user to select the preferred art style in which to photograph the scene.
Intelligent Color
Automatic adjusting of multiple levels of white balance improves images for both human and background under night scene.
Pricing
The Casio EX-H15 Exilim Digital Camera will have a MSRP of $299.