ELPH-Sized Footprint and Vertical Profile Offer Huge Hints of PowerShot TX1's Double-Duty Photo and HD Video Capabilities
At first glance Canon's new 7.1 megapixel PowerShot TX1 digital camera looks familiar…pocket-sized, stainless steel case with textured accents and enough cutting-edge photo technology to make one wonder how they got all that functionality into that deck of playing cards-sized package. Indeed, this compact camera fits in just as well at a football game or a family function; in a small evening bag for a night on the town, or the pocket of a dress shirt, and is as much at home on a business trip as it is on a hard-earned weekend getaway.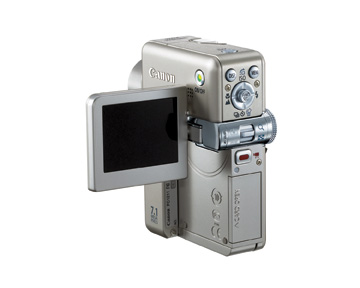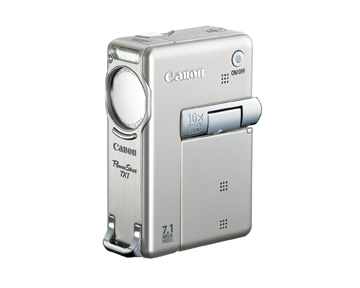 At second glance, the mystery of how they got all that functionality into that really small space deepens. Augmented by a simple press of the power button – this digital camera comes alive and the family resemblance to not one, but many of Canon's crowning camera achievements becomes immediately apparent…a stainless-steel barrier on the camera's leading-edge slides away to unleash the PowerShot TX1 digital camera's formidable (and optically image-stabilized) 10x optical zoom lens that glides smoothly from its resting place into the open air. Unfold a simple yet securely hinged housing, and an 115,000-pixel Vari-Angle LCD screen is freed to swivel camcorder-like from the PowerShot TX1 digital camera's side.
This digital dynamo even adds a 30 fps High Definition (HD) 720p widescreen (16:9) capability to its movie mode at the press of a button. What's more, the PowerShot TX1 digital camera has easy connectivity to play its movies or high quality stills back on high-def TVs, thanks to Canon's thoughtful inclusion of a convenient component video output terminal.
"We developed the PowerShot TX1 digital camera for people who appreciate its vast technological advances in both still and movie digital imaging and developed one, very compact, very powerful, very easy to use camera that provides high-resolution still images and HD movie capabilities as well," states Yuichi Ishizuka, senior vice president and general manager of the Consumer Imaging Group at Canon U.S.A., Inc. "The PowerShot TX1 digital camera is the fulfillment of Canon's innovative thinking and vision that mixes the best of photography and video features like never before."
Optical Image Stabilization
Given the impressive and extensive range of the PowerShot TX1 digital camera's 10x optical zoom lens (39mm -390mm equivalent), Canon included its advanced optical image stabilization (OIS) system that helps to significantly reduce the blurring effects of camera shake that can occur at long zoom settings or during long exposures. Superior to electronic IS systems that simply use software to mask movement, this OIS system actually shifts the lens to compensate for unwanted motion, making it easier to snap great images and smooth movies, when the camera is hand-held or in low-light conditions.
DIGIC III
The "brain" of this new PowerShot camera is DIGIC III, the newest iteration of Canon's ultra-efficient (and proprietary) image processor. The new gold standard on all new Canon cameras, the DIGIC III image processor accounts for the camera's higher performance levels including faster start up, autofocus and shutter response times, improved image quality and more efficient power consumption; resulting in extended battery life under typical shooting conditions.
Advanced Face Detection and Red-Eye Correction
With Canon's new Face Detection AF/AE/FE function, the camera can detect, lock on, and track multiple human faces in a scene. The face detection algorithm automatically prioritizes and selects faces (based on Canon's Intelligent Scene Analysis/iSAPS technology). It will then optimize the focus, exposure and flash to help ensure the best possible results for even easier picture taking moments. The result is flattering portraits and group shots where all of the subjects are in clearer focus and accurately exposed. Compared to previous Canon cameras with Face Detection technology, the PowerShot TX1 digital camera adds several improvements, including the ability to use the function for movies as well as still images, the ability to detect faces that are further away or not aimed directly at the camera, and better control of flash exposure.
Working with the camera's Face Detection technology, Canon's new Red-eye Correction feature helps detect and corrects, during playback mode, that bothersome by-product of flash photography. Images can be corrected manually while viewing photos on the LCD screen to help vanquish red-eye, once and for all. Because most images will no longer require laborious post-processing with a computer, the new in-camera Red-eye Correction feature is ideal for direct printing.
Aaand…Action!
The versatile PowerShot TX1 digital camera helps users to shoot home movies that can look like the next Hollywood blockbuster while recording CD quality Stereo Sound, in 44 KHz. In fact, consumers can take full advantage of the 10x optical zoom lens and image stabilization while shooting movies, which is a rare feature in most digital cameras. In addition to recording widescreen 720p HD movies at a rate of 30 fps for stunning High Definition clarity, the TX1 digital camera shoots high-quality VGA (640 x 480 pixels) movies at 30 fps (in a traditional 4:3 aspect ratio) and has the option of shooting at 30 fps or 60 fps in the QVGA 320 x 240-pixel setting (also in 4:3 format).
ISO-Metrics
As an added benefit of the DIGIC III image processor's more aggressive noise reduction, the PowerShot TX1 digital camera can shoot at ISO equivalent speed ratings from 80 to as high as 1600. This increased sensitivity at the top-end allows users to select faster shutter speeds, adding additional stability and reducing the danger of camera shake and subject blur during hand held, low-light photography. What's more, the TX1 digital camera offers users the option of Canon's new "Auto ISO Shift" feature which, at the touch of a button, can accurately increase the ISO up to 800, further offsetting camera shake due to low-light or unsteady shooting conditions.
In the Mode
The PowerShot TX1 digital camera comes equipped with 14 shooting modes, expertly allowing for a myriad of different photo preferences and conditions including Automatic, Camera Manual, Super Macro for close-up work, Color Accent, Color Swap, Stitch-Assist, Movie (including HD), and seven Special Scene Modes: Portrait, Night Snapshot, Indoor, Foliage, Snow, Beach and Aquarium.
Still Images and Video: The Best of Both Worlds With MovieSnap
Newly adapted for the PowerShot TX1 digital camera's 7.1 megapixel CCD image sensor, MovieSnap enables users to capture high-resolution still images while recording movies, helping to ensure that milestone memories are preserved for picture frames, photo albums and e-mail sharing as well as for video viewing.
True to its multi-use design, the PowerShot TX1 digital camera's wide-viewing angle, Vari-Angle LCD screen swings out, permitting the user to compose shots from virtually any position, such as over-the-head or under the knees, while the display screen's 15-level brightness adjustment makes it easier to view images under a variety of real-world lighting conditions. A new multi-layer coating on the surface of the screen is glare and scratch resistant, and provides enhanced resistance to dust and fingerprints.
Which End Is Up?
Clearly, not all images are vertical, even those taken with a vertically-designed camera. Switching back and forth to accommodate preferred composition used to require flipping the images in playback in order to view them. Now, Canon's on-board Intelligent Orientation Sensor automatically detects whether the camera is being held vertically or horizontally, so PowerShot TX1 digital camera users have the freedom to shoot and share their photos quickly and with incomparable ease.
Windows Vista Ready
As one of Microsoft's Premier Launch Partners, Canon is proud to announce that all PowerShot digital cameras announced in 2007 including the PowerShot TX1 digital camera are Certified for Windows Vista according to Microsoft standards, without any extra downloads or upgrades. Additionally, all current models are fully compatible with other operating systems including Windows XP and Mac OS X (Versions 10.2 – 10.4). The PowerShot TX1 digital camera will be supplied with Digital Solutions Disk V.30, which contains the latest versions of Canon's powerful yet easy-to-use imaging software, including ZoomBrowser EX 5.8 and ImageBrowser 5.8 Both of these programs support One-Touch Downloading via the TX1 camera's Print/Share button, which illuminates in bright blue when the camera is connected to a compatible device via USB.
The PowerShot TX1 digital camera accommodates standard SD memory cards and the new, high-capacity SDHC memory cards as well as MultiMedia and MMCplus cards. In stores beginning in March 2007, the camera kit includes a Lithium-ion rechargeable battery and battery charger, a 32MB MMC plus memory card, a USB interface cable, stereo AV cable for audio/video output, and a component video cable for connecting to High Definition TVs. The PowerShot TX1 carries an estimated selling price of $499.99*.
About Canon U.S.A., Inc.
Canon U.S.A., Inc. delivers consumer, business-to-business, and industrial imaging solutions. The company is listed as one of Fortune's Most Admired Companies in America and is on the BusinessWeek list of "Top 100 Brands." Its parent company Canon Inc. (NYSE:CAJ) is a top patent holder of technology, ranking third overall in the U.S. in 2006**, with global revenues of $34.9 billion. For more information, visit www.usa.canon.com.
# # #
All referenced product names, and other marks, are trademarks of their respective owners.
Specifications and availability are subject to change without notice.
* Pricing subject to change at any time. Actual prices are determined by individual dealers and may vary.
**IFI Patent Intelligence, January 11, 2007