Canon PowerShot SD430 Lets Consumers Cut the Cord for Remote Connection to Printers and PCs; Wireless Print Adapter, Sleek New Design and User-Friendly Interface on SD430 Model Makes Wireless Photography and Printing Easy and Fun
LAKE SUCCESS, NY – 2005 Imagine taking a family portrait from the living room and then wirelessly beaming that image to a printer in the home office without ever having to leave your seat. Sound like magic? It's not. With the sleek new PowerShot SD430 Digital ELPH Wireless digital camera, consumers can get rid of that tangle of computer and printer wires around their desk and take pictures more freely.
Perhaps the best thing about this new digital camera is not just that it's wireless, but that it's so easy to use. All the user needs to do is connect the supplied Wireless Print Adapter to a Canon PictBridge printer, such as the new Canon SELPHY CP510 or CP710 models, and press the blue lit Print/Share button on the back of the camera. Seconds later, the image is sent wirelessly to the printer and a photo-lab quality print begins to emerge. How's that for a magic trick?
Consumers can also wirelessly download images from this 5.0 megapixel, 3X optical zoom digital camera to a compatible personal computer, or even operate the camera remotely from as far away as 100 feet – pretty neat if you're a parent trying to capture a nice candid portrait of a son, daughter or significant other when they're not looking. The SD430 digital camera is also sure to be a hit at parties where friends will be amazed as images are automatically transferred wirelessly from the camera to a computer display while the party is still in full swing. A straightforward user interface on the SD430 Digital ELPH makes using all the wireless features on this digital camera a snap.
"With the new Canon PowerShot SD430 Digital ELPH Wireless model, we've built a camera that takes the advances of wireless digital photography and makes them so simple that users of all levels can enjoy them," said Yukiaki Hashimoto, senior vice president and general manager of the Consumer Imaging Group at Canon U.S.A., Inc. "Paired with one of our PictBridge-compatible SELPHY or PIXMA Photo Printers, this new wireless digital camera lets consumers easily shoot and print freely without ever feeling tied down."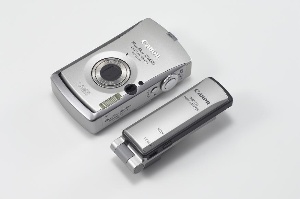 Wireless Made Easy
Since the Wireless Print Adapter WA-1N included with the SD430 Digital ELPH is pre-registered on the camera as a connecting device, wireless printing requires no initial setup. All the user needs to do is connect the adapter to a current Canon SELPHY or PIXMA PictBridge printer and they're ready to go. Once they select the image they want from the back of the camera, one more press of the Print/Share button is all it takes to print wirelessly. When the print is finished, they just pop the image into a frame and they have a great gift with only minimal effort.
Using the IEEE802.11b Wi-Fi standard, the SD430 digital camera can transmit a 5.0 megapixel image file to a compatible Canon SELPHY or PIXMA Photo Printer at high speed in approximately six seconds. With wireless direct printing using the SD430 digital camera, consumers are freed from the trouble of connecting their camera to a printer with a USB cable each time they want to print.
Images captured with the PowerShot SD430 digital camera can also be transferred wirelessly to a PC equipped with a wireless LAN card or a wireless access point device such as a router. When the camera is set for Auto Transfer, all the user needs to do is take a picture. Within seconds, the resulting image appears on the computer monitor at full screen magnification. When Auto Transfer is shut off, images are transferred wirelessly to the PC using the camera's Print/Share button. Users can even print their images wirelessly via the computer by camera operation alone.
Candid Camera
Another cool trick on the SD430 digital camera is its ability to be remotely operated when connected wirelessly to a PC, allowing the user to capture images to the computer at distances up to 100 feet from the camera. The user can actually track the action via a live, wireless video feed to the computer and instruct the camera to take a picture just by pressing a button on the keyboard. This feature is great for photographing a shy or reclusive subject. For instance, a photographer could set the SD430 digital camera next to a bird feeder and track the action on a computer, hitting the button at just the right moment when the bird lands. The photographer could also bring the camera and a laptop out into the woods and photograph wild animals from a distance without disturbing them.
New Futuristic "Slit & Frame" Design
Along with its technical innovations, the new PowerShot SD430 Digital ELPH Wireless sports a snazzy new design with sharp edges, a soft sloping shape and a blinking blue light visible from the front or rear of the camera to indicate when wireless transmission is occurring. The SD430 model's new "Slit & Frame" design splits it into a camera section and an antenna section suggesting the elegance of the DIGITAL ELPH line with the high-tech innovation of its wireless capabilities.
Same Powerful Core Technology
Featuring the already proven 1/2.5-inch 5.0 megapixel CCD sensor from the Digital ELPH SD400 and SD450 models, the SD430 uses many of the same key imaging features including an ultra-small, high-quality 3X optical zoom lens which uses two "UA" glass-mold aspherical lenses. The SD430 Digital ELPH Wireless features Canon's exclusive Intelligent Orientation Sensor/9-point AiAF autofocus system that allows the camera to automatically detect vertical or horizontal direction and accurately detect and focus on subjects within the 9-point focusing frame.
DIGIC II Image Processing Technology- Hi-Speed USB 2.0
True to the PowerShot tradition, the SD430 Digital ELPH Wireless digital camera has many of the latest advances in Canon technology including the proprietary DIGIC II imaging processor. The processor enhances picture definition, vibrancy and quality, while helping increase the speed of the cameras' startup, autofocus, shutter response, playback and image processing speed while reducing power consumption by 35% compared to the original DIGIC chip. If the user would like to send their images over a wired connection, image transfer speed is accelerated (when used with a USB 2.0 compatible computer, printer or other peripheral), thanks to the inclusion of a Hi-Speed USB 2.0 port. The USB 2.0 port is backwards compatible (at no increased speed) with computers featuring standard USB 1.1 connections.
Print Photos in Seconds
Like all PowerShot digital cameras, the SD430 digital camera works seamlessly with Canon's petite SELPHY Compact Photo Printers – an essential PowerShot accessory. Consumers connect their PowerShot digital camera to a SELPHY printer – such as the new SELPHY CP510, CP710 and CP600 models – press the lighted Print/Share button, and within seconds(1) images emerge. Presto! It's that simple. Canon's SELPHY Compact Photo Printers are PictBridge compatible. They work with PictBridge enabled digital cameras and offer excellent image quality and ease-of-use, especially when paired with a Canon digital camera. At 28 cents-per-print(2) , printing photos directly from a digital camera is both easy and affordable.
What's Included
The PowerShot SD430 Digital ELPH Wireless camera kit includes Wireless Print Adapter WA-1N, Compact Power Adapter CA-DC20, Battery Pack NB-4L, Battery Charger CB-2LV, Interface Cable IFC-400PCU, AV Cable AVC-DC300, Wrist Strap WS-600, SD Memory Card SDC-16M and a set of instruction manuals as well as the Canon Digital Camera Solution Disc Version 27, featuring the latest versions of Canon's powerful software and ArcSoft PhotoStudio
Pricing & Availability
The Canon PowerShot SD430 Digital ELPH Wireless digital camera is scheduled to be available in the U.S. by the end of January 2006 at an estimated selling price of $499.99.(3)
About Canon U.S.A., Inc.
Canon U.S.A., Inc. delivers consumer, business-to-business, and industrial imaging solutions. The Company is listed as one of Fortune's Most Admired Companies in America and is rated #35 on the BusinessWeek list of "Top 100 Brands." Its parent company Canon Inc. (NYSE:CAJ) is a top patent holder of technology, ranking third overall in the U.S. in 2004, with global revenues of $33.3 billion. For more information, visit http://www.usa.canon.com.
All referenced product names, and other marks, are trademarks of their respective owners.
Specifications subject to change without notice.
(1) Print speed based on average output speed achieved during product testing with DIGIC II processor embedded Canon PowerShot digital cameras. Other products' print speed may vary. Printer functions are sensitive to temperature and humidity.
(2) Based on Canon KP-108IP paper and ink pack manufacturers suggested retail price as of 6/15/05 and as compared to competitors' similar products.
(3) Actual selling prices are set by dealers and may vary.