The most advanced ELPH series camera to date
Canon has announced PowerShot SD4000 IS Digital ELPH camera. This new powerhouse point-and-shoot camera is the first of the Digital ELPH series to offer a high-sensitivity system, known as Canon's HS SYSTEM, with a CMOS sensor and bright f/2.0 lens. Offering consumers the most enhanced image quality available in an ELPH series camera, these features help to capture those wonderful moments in low-light conditions. The PowerShot SD4000 IS Digital ELPH camera also has high definition (HD) movie-shooting capabilities, providing an additional option for cataloging memorable events. Primarily, the new PowerShot SD4000 IS is great for any user with an attention for up-to-date functionality and style.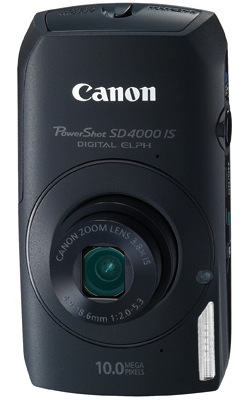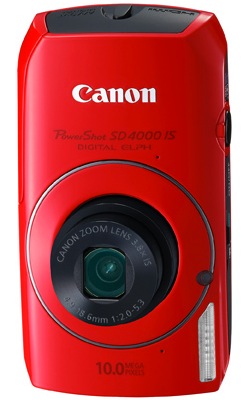 Whether attending a relative's sunset wedding or meeting friends in a dimly lit restaurant, these are times where the new PowerShot SD4000 IS showcases its best attributes. The new 10-megapixel back-illuminated CMOS sensor, in conjunction with the DIGIC 4 image processor creates Canon's HS SYSTEM to enhance image quality in low-light situations and helps reduce noise at high ISO speeds. Along with Canon's HS SYSTEM, the f/2.0 lens allows more light to enter, permitting higher shutter speeds, for further reducing the effect of camera shake and increasing image sharpness and quality. In addition, the combination of Canon's HS SYSTEM and the f/2.0 lens enables users to take photos without a flash, resulting in a more natural look while providing greater depth of field, making it an exemplary tool for portrait photography. In addition, the PowerShot SD4000 IS has the fastest high-speed burst rate to date* in a Canon PowerShot Digital ELPH camera with 8.4 frames per second (fps). New to the ELPH cameras, the PowerShot SD4000 IS has aperture and shutter controls allowing for enhanced flexibility and creative control, making this camera great for shooters who are interested in getting even more out of their photography.
"With the introduction of the new PowerShot SD4000 IS, Canon is putting the power of high-quality photography in an ultra-compact size to amplify the experience and quality customers see when shooting with a Canon camera," said Yuichi Ishizuka, executive vice president and general manager, Consumer Imaging Group, Canon U.S.A. "The two functions in the HS SYSTEM allow our customers to capture the clearest pictures in any setting, resulting in more of a professional look."
For the Design-Centric
A treat for the eyes, the PowerShot SD4000 IS has beautifully crafted curves, texture and a modern look that appeals to a design-savvy user. With all of its new features, the Canon PowerShot SD4000 IS elevates the current ELPH series, offering advanced settings in a polished, sculpted, compact frame, making it an essential item to tote anywhere.
Get Creative with HD Movie
The addition of the HD Movie feature in the new PowerShot SD4000 IS is one of the most distinguished characteristics that makes this camera a must-have for anyone. This dual-purpose camera allows users to creatively compose video, helping to capture unforgettable moments from a child's first baseball game to a son or daughter walking up to the podium on Graduation Day. Users can also have more fun with HD movie footage by using the My Color function, composed of Color Swap and Color Accent options. In addition, video content is easily downloaded from the camera via USB connection and can be easily played back on your HDTV via an HDMI output connector.
Timing is Everything
As an added bonus, the new Canon PowerShot SD4000 IS has a new Super Slow Motion movie function that allows users to record video at a very high frame rate, possessing the appearance of slow motion when played back at regular speed. The Super Slow Motion movie function captures a subject at 240 frames-per-second (fps), and later plays back the footage at 30 fps, allowing each moment of footage to be appreciated in super slow motion while maintaining great image quality.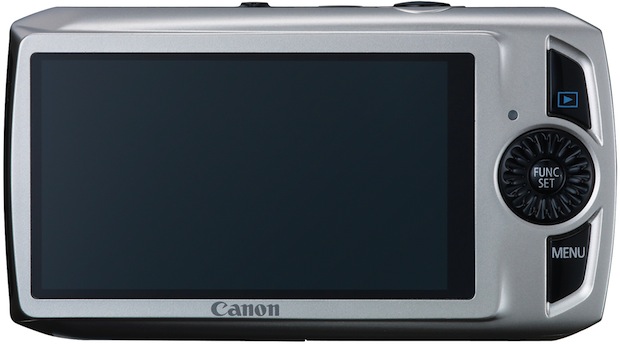 Additional Features
A 3.0-inch wide angle (28mm equivalent) wide screen LCD allows for easy on-camera previewing and reviewing of menus and images.
A 3.8X optical zoom with optical image stabilization helps to ensure images will be clear and how they were meant to be captured.
Support of the high-spec SDXC memory cards with the maximum storage of two terabytes (TB) in SDA standard.
Eye-Fi memory card connectivity, where wireless data can directly transfer to PCs.
New scene modes, such as miniature and fish-eye effects help to increase overall creativity.
Smart Shutter technology, which automatically takes pictures when a person smiles or winks; resulting in less re-takes.
The new Canon PowerShot SD4000 IS is available in three different color variations: red, black and silver. In addition, while supplies last, there will be an exclusive, limited edition white PowerShot SD4000 IS model available direct from Canon (www.shop.usa.canon.com). Scheduled to be available at the end of May, the Canon PowerShot SD4000 IS Digital ELPH camera retails for an estimated price of $349.99.
*Depending on the shooting conditions, camera settings and the zoom position, the shooting speed may slow down. As the number of images increases, the shooting interval may take longer.