New G-Series Camera Gives Serious Photo Enthusiasts the Power of a Professional Digital SLR in a Point-and-Shoot Package
Canon U.S.A., Inc. announced today that its acclaimed G-series has a new top-of-the line model – the PowerShot G9 digital camera. The PowerShot G9 digital camera offers serious shooters and value-minded professionals a feature-packed camera with many of the advanced photographic capabilities of a high-end Digital SLR camera, in a lightweight, compact package at an affordable price.
The PowerShot G9 digital camera features the same matte black, retro-hip design that G-series fans have come to appreciate, with a simplified control layout that is versatile yet easy to understand. This camera is loaded with Canon's latest and most advanced technologies, while raising the bar with the addition of RAW Mode, usually reserved for larger and more expensive SLR cameras. Advanced photographers also have the option of using RAW+JPEG simultaneous capture functionality, giving photographers the best of both worlds – JPEGs for immediate use and RAW images for faithful image reproduction, and extensive, non-destructive image editing capability.
The PowerShot G9 digital camera features class-leading 12.1-megapixel resolution for stunning, deeply detailed images that allow enlargements up to poster size with cropping. A 6x optical zoom lens brings the photographer right into the action, and by incorporating Canon's Optical Image Stabilizer (OIS), excellent-quality images are assured in situations prone to camera shake and image blurring. So, whether you are shooting outdoors at dusk or inside without a flash, camera shake is detected and effectively canceled. Photographers will find it quick and easy to review and compare photos for printing with Canon's Image Inspection Tool. And, because Image Inspection is now linked with Advanced Face Detection technology, they can save considerable time while reviewing, because the main subject is automatically detected and enlarged, eliminating the need to zoom and scroll manually, while at the same time making it simple to determine if facial expressions are pleasing before moving on to the next photo.
"The PowerShot G9 digital camera brings our highest levels of performance and usability to the G-series," said Yuichi Ishizuka, senior vice president and general manager, Consumer Imaging Group, Canon U.S.A. "By combining RAW Mode with our other key technologies in this camera, we're providing a high-performing and affordable option to advanced photo enthusiasts who want the creative power of a Digital SLR in a smaller body form."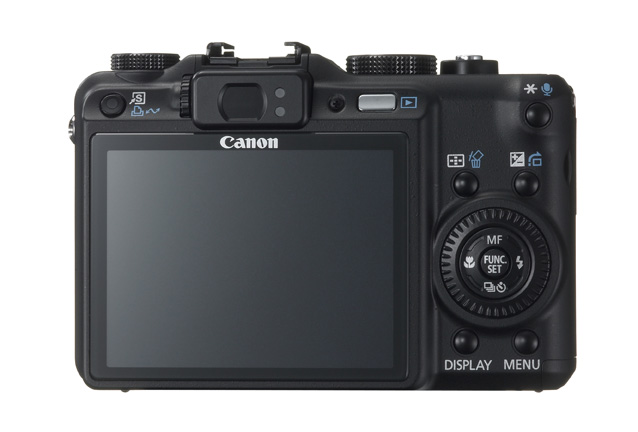 The PowerShot G9 digital camera comes equipped with 23 shooting modes, allowing for a myriad of different photo preferences and conditions including Automatic, Manual, Shutter-speed-Priority, Aperture-Priority, and two Custom modes as well as special scene modes such as Portrait, Landscape, Night Scene, Sports, Indoor, Beach and Snow, offering users Digital SLR-like capability in a compact digital camera. The PowerShot G9 also features Canon's powerful DIGIC III Image Processor, delivering superior image quality, ultra-responsive performance, extended battery life and advanced Face Detection technology, so users can be confident that the face they want, is the face that they capture. And, with a new large, three-inch PureColor LCD II screen and easy-to-access ISO and manual mode dials, customized shooting, reviewing and menu adjustments are especially convenient. The PowerShot G9 digital camera is also compatible with optional high-quality Canon wide-angle, telephoto and macro supplementary lenses, as well as EOS Speedlite flashes and a waterproof case rated to a depth of 40 meters/130 feet, giving photographers more robust photographic capabilities that are in line with professional and expensive SLRs.

True to Canon's industry leadership position, the PowerShot G9 digital camera gives consumers interested in the ease of a compact camera many of the technological advancements that are the result of Canon's 70-year heritage as an imaging innovator, differentiating it from competitive products.

New Canon PowerShot Product Lines' Standard Advanced Technologies
DIGIC III
The "brain" of this new PowerShot camera is DIGIC III, the gold standard on all new Canon digital cameras. The DIGIC III image processor accounts for the camera's higher performance levels, including faster start-up, faster autofocus and quicker shutter response times that leave long-lag competitors in the dust. The DIGIC III chip design improves image quality and offers more efficient power consumption, resulting in extended battery life under typical shooting conditions.

ADVANCED FACE DETECTION
With Canon's new Genuine Face Detection technology, the camera can detect, lock-on and track up to nine forward-looking human faces in a scene. The Face Detection algorithm automatically prioritizes and selects faces and not simply the closest object (based on Canon's Intelligent Scene Analysis/iSAPS technology). It will then optimize the focus, exposure and flash to ensure the best possible results. Using Canon's Face Detection, photographers can keep up to nine faces in focus at any one time no matter where they are within the image. The PowerShot G9 camera also introduces an exclusive new function called Face Select and Track. With this feature, when multiple faces are detected, photographers can select any individual face they want the camera to specifically track and be a primary focus. This feature is ideal for many shooting situations such as birthday parties or graduation ceremonies, where many people are present, but the photographer is primarily interested in just one of them. Working in concert with Face Detection, the G9's "Red-Eye Correction" feature helps to detect and correct red-eye during playback mode. Images can be corrected automatically or manually while viewing photos on the LCD screen. All in all, Canon's new Face Detection Technology makes for even easier picture-taking moments, helping users ensure in-focus smiles, and assisting in the elimination of over-exposed faces.

OPTICAL IMAGE STABILIZATION (OIS)
The extended zoom range of the PowerShot G9 camera makes optical image stabilization (OIS) essential. Canon's lens shift OIS provides an effective antidote to camera shake, particularly at longer zoom lengths or during long exposures when even the slightest hand-held shake is magnified to picture-blurring proportions. Superior to electronic image stabilization systems that simply use software to mask movement, OIS actually shifts the lens proportionately to compensate for unwanted motion, making it easier to snap great images. The OIS found in Canon PowerShot digital cameras is based on technology developed for Canon's renowned high-end professional SLR cameras.

The steady effectiveness is further enhanced when paired with the new "Auto ISO Shift" feature which, at the touch of a button, can automatically increase the ISO speed setting as required to maintain fast shutter speeds when shooting in low light conditions without a flash.

PRINTING MADE EASY
All Canon PowerShot digital cameras work seamlessly with Canon's compact photo printers to deliver stunning high-quality borderless prints. Consumers simply connect their PowerShot digital camera to a Canon compact photo printer, press the Print/Share button, and moments later a brilliant, borderless 4″ x 6″ print begins to emerge; it's that simple. Canon's compact photo printers are PictBridge compatible, so they work with PictBridge enabled digital cameras to provide users with excellent image quality and ease-of-use, especially when paired with a Canon digital camera.

HIGH-CAPACITY MEMORY CARD CAPABILITY
As an added convenience, Canon PowerShot digital cameras also accommodate MultiMedia MMC memory cards, as well as standard SD memory cards and the new, high-capacity SDHC memory cards. This way, consumers do not have to carry around multiple memory cards in order to be able to continue to save those special moments during extended vacations or high-photo-taking adventures. Canon PowerShot owners can travel in sleek style.

Powerful Software
The PowerShot G9 is bundled with the latest versions of Canon's powerful digital imaging software, including ZoomBrowser EX 6.0 and ImageBrowser 6.0 for easy downloading, viewing and printing. RAW Image Task software is also supplied to facilitate high-quality processing of the PowerShot G9's new RAW images.

In stores in October, the PowerShot G9 camera kit includes a lithium-ion rechargeable battery and battery charger, a 32MB MMC plus memory card, a USB interface cable, an AV cable, a neck strap, and Canon's software suite at an estimated selling price of $499.99*.

About Canon U.S.A., Inc.
Canon U.S.A., Inc. delivers consumer, business-to-business, and industrial imaging solutions. The Company is listed as one of Fortune's Most Admired Companies in America and is on the 2006 BusinessWeek list of "Top 100 Brands." Its parent company, Canon Inc. (NYSE:CAJ), is a top patent holder of technology, ranking third overall in the U.S. in 2006i, with global revenues of $34.9 billion.

All referenced product names, and other marks, are trademarks of their respective owners.

Specifications and availability are subject to change without notice.

* Pricing subject to change at any time. Actual prices are determined by individual dealers and may vary.
i IFI Patent Intelligence, January 2007.

<!-comments-button-->