Canon announced its flagship PIXMA Wireless Office All-In-One (AIO) printer, model MX892 with print, copy, scan and fax capabilities, plus Google Cloud Print and PIXMA Cloud Link. Google Cloud Print will enable Gmail messages, file attachments and select Google Docs to be sent to the printer for printing from any computer, tablet, or smart phone. For those registered with Google's PicasaWeb Albums, there is PIXMA Cloud Link so users can print photos directly from their online albums. The printer also provides direct access to a wide range of printable templates, such as stationary and calendars, so photographers can get creative with their images.
Adding to the printer's connectivity options is the Canon Easy-PhotoPrint (EPP) mobile app, for use with compatible Apple and Android smart phones and tablets, where documents can be scanned on the printer and sent to the device. Users can also print PDFs of documents that were created with the app directly from these devices. The Canon PIXMA MX892 Wireless Office AIO printer will also have 802.11n wireless capability allowing for a high-speed network transfer rate and easy sharing on a network. Setting up a wireless network for multiple users to quickly share information can be accomplished with the press of one button when using Wireless Protected Setup (WPS). An Ethernet port has also been included as an alternative when wireless is not available, allowing for a hard line connection for easy sharing with multiple users as well.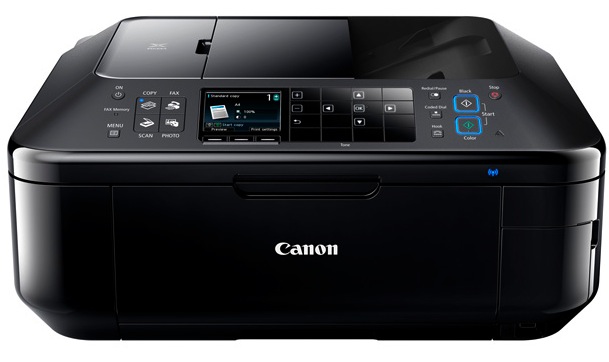 The Canon PIXMA MX892 Wireless Office AIO printer utilizes the ChromaLife 100+ system with five individual ink tanks producing superb quality for presentations and memorable images at a maximum color resolution of 9600 x 2400 dpi. When the latest task includes creating a family photo album, the printer allows you to easily view images on the 3-inch LCD screen and can generate a 4″ x 6″ borderless photo in approximately 20 seconds. The scanner capabilities feature an incredible resolution of 2400 x 4800 dpi to help ensure the duplicate copy will be equivalent to the original. Further adding to the functionality of the machine, is the capacity to provide print output at approximately 12.5 images per minute (ipm) for black-and-white documents and approximately 9.3 ipm for color.
With the Canon exposed user interface, scanning or copying of large sized documents can be accomplished without interfering with any buttons needed to perform a task. Further adding to productivity is the Dual Function Panel, which makes navigating through menus and functions a very smooth process. When switching between the fax function and either print, copy or scan functions, the keypad will switch from the standard numbers to a directional keypad thus making the printer look sleek, clean and easy to use.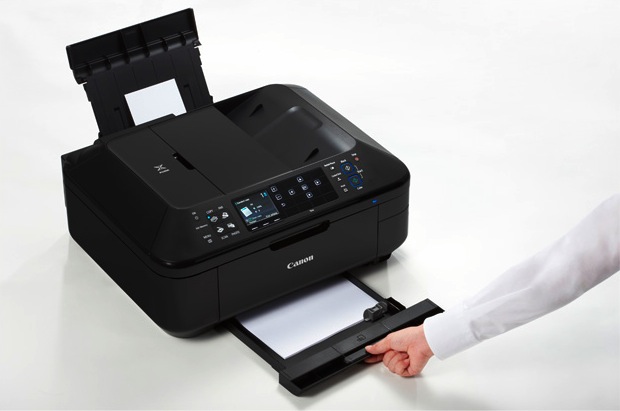 The Canon PIXMA MX892 Wireless Office AIO printer comes with additional features which can help increase productivity and conserve paper usage. With Advanced Media Handling capabilities such as a 35 sheet Duplex Auto Document Feeder that allows for quick two-sided copying and scanning in addition to Auto Duplex printing, users can perform other tasks while the printer handles the bulk of the workload. The printer also has two paper feeds which can hold a maximum of 150 sheets of plain paper each, helping ensure paper will not run out unexpectedly while working. With the two paper feeds, there is the option to load one tray with standard paper and the other with specialty paper so the user will not have to re-load when changing types of print jobs and save time.
For those interested in customizing photos, Easy-PhotoPrint EX software is available for this feature-packed printer with a variety of fun filter effects such as Fish-Eye, Miniature, Toy Camera, Soft Focus and Blur Background. Full HD Movie Print software has also been included, producing clear images of frames from videos captured on compatible HD Canon EOS and PowerShot Digital cameras. An added bonus is exclusive printable content through CREATIVE PARK PREMIUM. The content on this website includes family projects such as Eric Carle greeting cards and photo frames as well as calendars to keep track of important business meetings and appointments.
Price and Availability
The Canon PIXMA MX892 Wireless Office AIO printer is available for $199.99.