Canon announced five new affordable portable LCD projectors. These products include the LV-8225, Canon's latest WXGA-resolution widescreen 16:10 LCD model. Together with XGA models — the LV-7490, LV-7390, LV-7295 and LV-7290, all are targeted at value-conscious users, including educators, traveling salespeople and small-business entrepreneurs.
Advanced Features
Shared by all five of Canon's affordable new multimedia LCD projectors are innovations and improvements designed to maximize convenience and economy for end-users. These advanced features include:
Auto Set-Up Functions – for signal input, PC signal type, and vertical-keystone correction. One push of a button automatically identifies the type of input signal (video or computer), and – if a computer input – automatically synchronizes the projector's display with the computer screen's pixel configuration. Auto vertical-keystone "squares" images when the projector is facing the screen at an angle.
Extended Projection-Lamp Life – up to 6,000 hours in Quiet Mode (projection-lamp life of the model LV-7490 is 5,000 hours in Quiet Mode).
Extended Air Filter Life – up to 5,500 hours in ECO Mode (the filter, made of a new three-layer, highly efficient, hybrid material, cleans the air drawn in by the internal fan that cools the projection lamp).
Wide-Angle 1.2x Zoom Projection Lens – for bright, clear picture quality.
Manual Zoom and Focus – for exact user-determined settings of projection optics.
Quiet Operation – at only 29 dB (in Quiet Mode), these new projectors are equipped with a cooling system that produces very little noise.
Easy-Install Lamp and Direct Power-On – convenient features for users wanting to ceiling-mount their Canon multimedia LCD projector.
Multiple Inputs – ample computer, video, and audio connections ensure compatibility with a wide variety of display sources.
RJ-45 Network Connection and RS-232C Serial Connection – for full LAN control and remote PC control.
Widescreen Display and High Brightness
In addition to the features cited above, Canon's new multimedia LCD projectors provide special added capabilities. The new Canon LV-8225 LCD Projector, responding to the growing popularity of widescreen notebook and desktop computers, delivers native WXGA-resolution (1280×800) for widescreen 16:10 images. Rated at 2500 lumens, this projector is designed for full-screen display of diagrams, spreadsheets and video, so often included in educational presentations, and it avoids the need for image compression or other picture-distorting measures.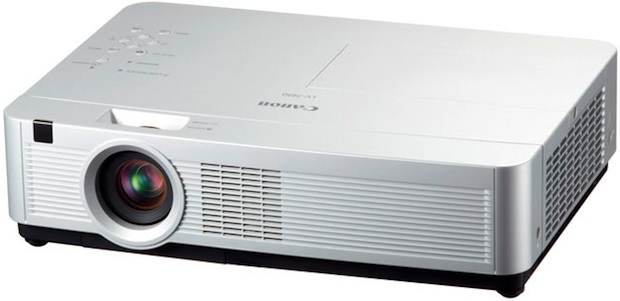 With 4000 lumens of brightness, the new Canon LV-7490 LCD Projector has XGA-resolution (1024×768), making it a great choice for larger environments and those with higher levels of ambient light. This portable model would be ideal for many educational institutions where students would be able to take notes without having to darken the entire classroom.
The new Canon LV-7390, LV-7295, and LV-7290 LCD projectors are versatile XGA-resolution models with all of the advanced features referenced above and provide excellent brightness levels of 3000, 2600, and 2200 lumens, respectively.
Pricing, Availability and Warranty Information
All models are expected to ship in early April and each is backed by Canon U.S.A.'s exclusive Triple P (Projector Protection Program), a FREE service program that provides a loaner projector of equal or greater value to the end user in the event their projector needs to be repaired.