Canon announced two new versions of its coveted Wide Angle Lenses and a new version of its popular 24-70mm Standard Zoom Lens for professionals and photo enthusiasts. The new EF 24-70mm f/2.8L II USM, EF 24mm f/2.8 IS USM and EF 28mm f/2.8 IS USM lenses use a rear focusing system, high-speed CPU, and a powerful ring-type Ultra Sonic Motor (USM) with optimized AF algorithms for faster auto focusing and sharp images. With large apertures these new lenses deliver beautiful, soft backgrounds for superior image quality.
Canon EF 24-70mm f/2.8L II USM Lens for Harsh and Rigorous Conditions
This new version of one of Canon's most popular lenses utilizes one Super UD lens element and two UD lens elements to help achieve outstanding image quality throughout the full zoom range. The result is significantly reduced chromatic aberration in the outer area at wide-angle, high resolution and contrast in images and crisp clear edges around the subject. The lens coatings have been optimized to ensure exceptional color balance while minimizing ghosting, and reduced spherical aberration. With a circular nine-blade diaphragm, the lens delivers soft backgrounds and incredible bokeh.
In demand by architectural, corporate, adventure and professional photographers of nearly every discipline, the EF 24-70mm f/2.8L II USM lens combines amazing image quality with enhanced durability. Highly resistant to dust and water, the new lens has enhanced durability and weather sealing. The lens also features a zoom lock lever to secure the zoom position for safe transport, and fluorine coatings on the front and rear glass surfaces to reduce smears and fingerprints, making it an ideal lens regardless of the conditions.
Canon Standard Prime Lenses with Optical Image Stabilizer: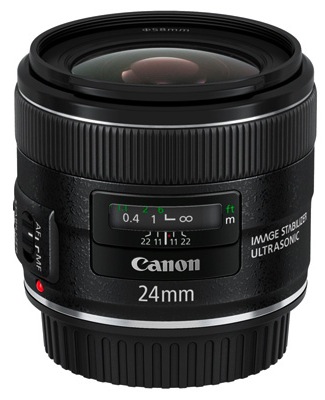 EF 24mm f/2.8 IS USM & EF 28mm f/2.8 IS USM
Empowering landscape and wide-angle photographers with improved optical performance, Canon has upgraded both its EF 24mm and EF 28mm lenses with Image Stabilization technology and Ultrasonic Motor-powered auto focus. Both lenses feature Canon's Optical Image Stabilizer technology providing up to four shutter speed stops of correction. With the Optical Image Stabilizer turned on, photographers can capture sharp wide-angle images in low-light settings reducing the need for a flash or a tripod. New aspherical lens elements improve the peripheral image quality and a seven-blade circular diaphragm delivers beautiful, soft backgrounds. The silent and smooth operation of each lens makes them ideal choices for shooting video as well. The EF 24mm f/2.8 IS USM and EF 28mm f/2.8 IS USM lenses each have a minimum focusing distances of 0.20m and 0.23m, respectively.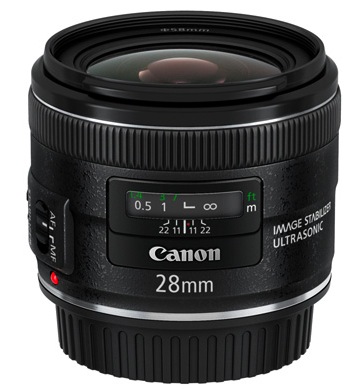 Price and Availability
Canon EF 28mm f/2.8 IS USM lens will be available June 2012 for $799.99
Canon EF 24mm f/2.8 IS USM lens will be available June 2012 for $849.99
Canon EF 24-70mm f/2.8L II USM lens will be available April 2012 for $2,299