Iroise 3 and Egea 3 Loudspeaker Models Debut
Cabasse, a legendary, world-class specialist in the design and manufacture of innovative, premium loudspeakers, announces Altura MC, an exciting new series of floorstanding loudspeakers, to the North American market. So far, the line up includes the new Iroise 3 and Egea 3 with two more towers to be announced shortly. Retail price for the Iroise 3 is $3,450 each. Retail price for the Egea 3 is $3,050 each. Both are available immediately from StJohn Group, exclusive North American distributor for Cabasse.
Photo: The Cabasse Iroise 3 and Egea 3
Spatially Coherent System Technology
Each new model incorporates Cabasse's proprietary Spatially Coherent System (SCS) technology. Imagine three stones hitting the surface of a lake at three different points. The created waves will mix and propagate erratically. Now imagine three stones hitting the surface at the same point. The waves grow and spread harmoniously. This single source emission (or point source) is the benefit of the co-axial drivers and wide-range tweeters designed by the Cabasse R&D team. Fidelity to original timbres and dynamic range, a wide, stable and full soundstage, are the benefits of SCS technology.
The co-axial technology by Cabasse is a major innovation in the loudspeaker world because its principle is the closest proposal to the theoretical ideal. It results from the 60 years experience Cabasse has in driver design and development, and the new version of the BC13 benefits from 20 years expertise in this type of midrange-tweeter.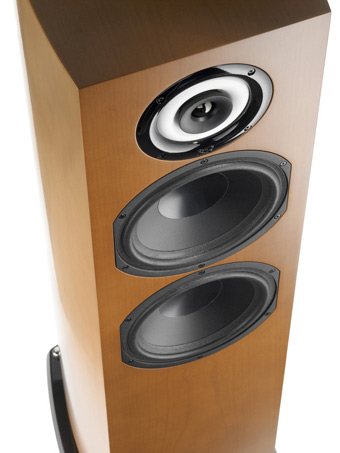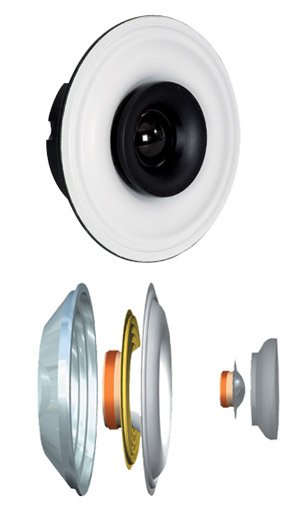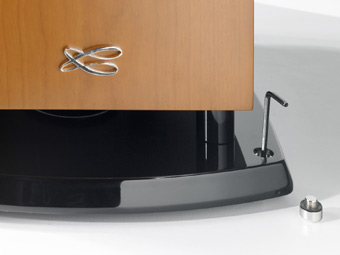 BC13 Coaxial Midrange Tweeter
Developed from the TC23, the three-way co-axial driver fitted to the top of the range speakers, including the flagship "La Sphere", this new version of the BC13 has been optimized for even better performance when used as a two-way unit. The bandwidth is larger and the efficiency and the power handling are improved thanks to the use of new magnets offering a 30% increase in magnetic force. The spatial coherency of this driver not only guarantees a faithful reproduction of timbres with no artificial coloration or weariness during long listening sessions, but also provides a soundstage with unrivaled realism and depth.
DUOCELL Cone Woofers
The 17 cm (7″) woofers of Egea 3 are an evolution of the units initially designed for the BAHIA speaker. They are fitted with a DUOCELL cone, which is based on Rohacell foam. Cabasse designed the first DUOCELL membranes in the 1980s and since that time they have been manufactured by robots in a Cabasse group company. The very light, but rigid and well-damped membrane has an exponential profile and variable thickness, to obtain the most of long throw systems and powerful magnets.
Weighing in at 77 pounds and 66 pounds, respectively, the Iroise 3 and Egea 3 are available in Golden Cherry wood finish, Santos wood finish, and Gloss black.
Both models have non-parallel side panels to remove standing waves, and variable thickness cabinet panels for rigidity and neutrality. Magnets hold the front grilles in place, so that when the speaker is being used without the grilles, the front panel is free from pins or holes.
The bass-reflex port is positioned at the bottom and fires vertically reducing standing waves and providing a very efficient and linear extension of the low-frequencies thanks to a 360° radiation close to the floor.
John Caldwell, sales director and co-founder of StJohn Group, commented on the new models, "The common denominator for the entire Cabasse line is SCS (Spatially Coherent System) technology, also commonly known as "point source" driver technology. This technology is imminently sellable and very differentiating in the marketplace.
You can easily demo the superiority of ANY Cabasse speaker compared to traditionally arrayed speakers by putting white or pink noise through them and rotating them on the vertical axis from side to side. You will not hear the traditional mid/tweeter lobing or suckouts. This is great for both home theater and two channel applications."
Key Cabasse Alture-line Features:
Technology — point source driver alignment offers extraordinary phase alignment and mitigates room boundary effects for a more lifelike performance.
Innovative — new BC13 tweeter, and woofers with very light, rigid and well-damped variable thickness membranes
High Performance — high power handling and efficiency for demanding music or soundtracks; bass reflex port for low bass.
Stylish — Non-parallel sides to obviate standing waves; variable thickness cabinet panels for rigidity and neutrality; magnetic front grilles; available in available in Golden Cherry wood finish, Santos wood finish, and Gloss black.
About Cabasse
Founded by Georges Cabasse in 1950, the company has been a pioneer in the search for true musical reproduction. In all likelihood, the quest really began in 1740 when the first signed Cabasse violin was made. Five generations of musical instrument craftsmen followed, pursuing the tradition and supplying Europe with violins, violas and cellos, most of which are still being played in orchestras today.
Cabasse's continuing obsession is to faithfully and perfectly reproduce music and soundtracks, without any alteration, coloration or distortion in the sound. This boundless passion has led the company to relentlessly innovate, design, and engineer better and better loudspeakers, so that all ears can enjoy the essence and thrill of sonic purity.