Buffalo Technology today announced the N-Technology Wireless-N Ultra-Compact USB 2.0 Adapter WLI-UC-GNM, a follow-up to Buffalo's highly popular WLI-UC-GN, providing the smallest possible footprint in a wireless client. The WLI-UC-GNM is a lightweight, compact USB adapter that complements consumers' active lifestyles and easily upgrades any notebook or netbook to 802.11n. Measuring in at a quarter of an inch, the WLI-UC-GNM helps prevents accidental disconnection or damage by virtue of its unique and compact design.
Buffalo's compact USB 2.0 Adapter offers ultra small portable high-speed wireless connectivity to your Windows laptop or desktop through an available USB port. With faster wireless data rates and more coverage than legacy 802.11 products, WLI-UC-GNM provides better performance and range than many PCs' internal wireless card. This wireless client offers sufficient bandwidth and range to stream video, voice, and music. Support for the AirStation One-Touch Secure System (AOSS) allows you to set up a high-speed, secure wireless network within minutes. The ultra compact size blends in to have minimal visual impact on your notebook or desktop.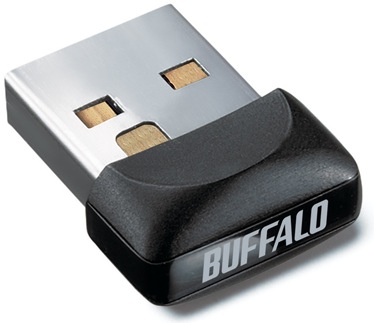 Features
Ultra compact design minimizes physical impact and fits into any USB port
Designed to meet 802.11n specifications
Wi-Fi Certified to ensure compatibility with other certified devices
Faster speed and greater range than standard 802.11g
Backward compatible with 802.11g and 802.11b
Great for surfing the Web or streaming your favorite music
Push-button setup with AirStation One-Touch Secure System (AOSS)
Supports WPA2, WPA-PSK (AES, TKIP), and 128/64-bit WEP security
USB 2.0 support
Pricing and Availability
The Buffalo WLI-UC-GNM will be available in August at $39.99 MSRP.