Buffalo Technology announced the DriveStation AV USB 2.0 Multimedia Hard Drive. The horizontal design of DriveStation AV and its easy to read external capacity meter make it ideal for use in home entertainment centers with a variety of Digital Media Adapters and TV sets. With an extensive list of features and its compact form factor, DriveStation AV is a perfect storage and backup solution for your media center, gaming room and even your office.
"Consumers are becoming much more savvy when it comes to accessing and enjoying multimedia entertainment, creating the need for a storage solution that can manage and distribute that digital content," said Ralph Spagnola, vice president of sales at Buffalo Technology. "With the DriveStation AV, Buffalo delivers consumers a direct attached storage solution for entertainment systems' ever increasing demand for storage."
Built with a standard USB 2.0 connection, DriveStation AV provides immediate storage expansion for an array of devices including HDTVs, cable and satellite boxes, media players and gaming systems like Sony PlayStation3. The integrated blue LED meter displayed across the front of the unit provides an immediate capacity reading, telling you how much free space is left on the disk for multimedia or data storage. Plus, eco-minded DriveStation AV automatically turns on and off with the device it is connected to, conserving energy and making it ideal for use with a variety of multimedia products.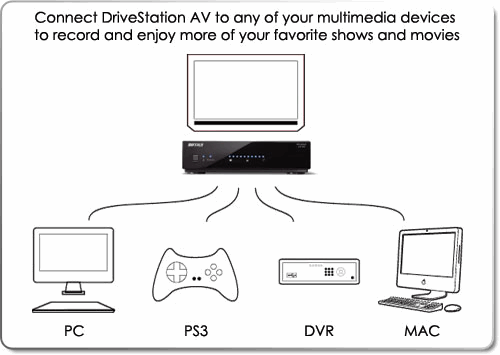 DriveStation AV includes Buffalo Tools, a feature-rich suite of tools designed to enhance computer performance and the day-to-day digital life of PC consumers. Using your PC's high speed RAM, TurboPC can increase file transfer rates by up to 2x over standard external hard drive connections. TurboPC also includes TurboCopy which provides additional system adjustments to increase performance substantially. Buffalo Tools' Backup Utility is an easy-to-use and fully featured backup software for Windows PCs and can be used to back up one or multiple computers with a single Buffalo external hard drive. ECO Manager is a PC tool designed to conserve energy by regulating the power usage of your Buffalo external hard drive at predetermined times, extending the life of the drive while reducing energy usage, including laptop battery consumption. RAMDISK is a simple utility that allows you to create a RAM disk on your Windows PC, creating a small, but extremely fast environment to work on files in. SecureLock software provides complete control of the data encryption on your Buffalo external hard drive, providing password protection and software data encryption.
Pricing and Availability
The DriveStation AV USB 2.0 Multimedia Hard Drive is backed by a limited one-year warranty that includes toll-free 24/7 technical support and is available now at estimated street prices of: