Buffalo Technology has refreshed its DriveStation Duo and DriveStation Quad, formerly DriveStation Quattro, representing the latest generation of high-performance direct attached storage solutions. Combining performance and reliability, these new multi-drive external hard drives, equipped with NovaBACKUP® Business Essentials, are ideal for small servers, creative professionals, offices and consumers requiring redundant and high performance external storage. Also announced today is the new DriveStation Axis, a single drive storage solution combining unique features and simplicity with Buffalo's distinguished reliability for an exceptional value.
The DriveStation Quad is a 4-drive, RAID enabled storage solution for small servers, creative professionals, offices and consumers requiring large, redundant and high-performance external storage. Equipped with four hard drives, DriveStation Quad supports RAID 0, 5, 10 and Normal modes, but ships configured in RAID 5, for a prime balance between data redundancy and available storage capacity. Additionally, DriveStation Quad supports USB 2.0 for compatibility with almost any computer and eSATA 3.0 for high-performance data transfer rates of up to 235 MB/s. A heavy-duty cooling system allows the unit to efficiently run cool and quiet while the snap-off front plate allows for quick and easy drive replacements with no tools required. Available in capacities up to 8 TB, the DriveStation Quad delivers unmatched performance at a great value.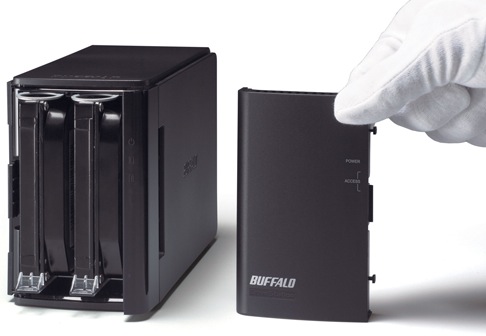 The DriveStation Duo dual-drive storage solution features USB 2.0 support for universal compatibility and enhanced performance speeds up to 225 MB/s with eSATA 3.0, providing the necessary horsepower for even the most performance critical applications. Equipped with two quick swap hard drives, the DriveStation Duo supports RAID 0 and 1 offering data redundancy or the capacity required for demanding professional and server applications, along with simple user maintenance and tool-free drive replacements.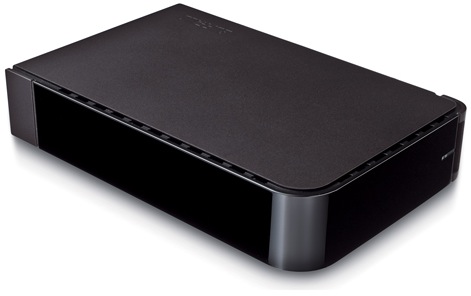 For value-minded consumers, Buffalo's new single drive DriveStation Axis is an easy-to-use external hard drive for the simple addition of external storage to any device via a USB port. DriveStation Axis features a sleek, attractive chassis that can be positioned vertically or horizontally, adapting to the location it is used in for efficient use of space. Equipped with the Buffalo Backup Utility, a component of Buffalo Tools, a feature-rich software suite designed to enhance computer performance and the day-to-day digital life of Windows® PC consumers, the Buffalo DriveStation Axis is the perfect solution for expanding storage or backing up any home or home office computer.
Pricing and Availability
The Buffalo DriveStation family is backed by a limited one-year warranty that includes toll-free 24/7 technical support.