Bowers & Wilkins updated its PV1D active subwoofer with new drivers, new amplification and DSP control. New drivers mean deeper bass and higher maximum volume. A new amplifier means faster and more dynamic performance. Touch button control, and DSP based on the flagship DB1 subwoofer system, means more consistent in-room performance and easier setup.
Retaining the balanced drive and pressure vessel concept of its predecessor (PV1 first launched in 2004), PV1D sports new digital processing to provide greater control and versatility for seamless integration with a wide variety of satellite speakers. There is power on tap to fully reproduce the most demanding special effects in movies, but PV1D retains all the musical nuances for which its predecessor was renowned.
PV1D features a similar die-cast pressure vessel enclosure to its predecessor, within which it incorporates balanced back-to-back mounted drivers, high performance Class D power amplification and a switched-mode power supply. The innovative composite mica/aluminium inverted dome drivers of the PV1D are conceptually similar to their predecessors, but thanks to a ground-up re-design of their magnet and voice-coil system offer significantly increased maximum displacement, sensitivity and power handling.
Their performance translates directly into a more extended low frequency bandwidth, increased maximum sound pressure level and lower distortion. Like its drive-units, the PV1D amplifier is new; a 400 Watt design that builds on the concepts of the previous model to offer greater performance and a yet more satisfying music, or movie, experience.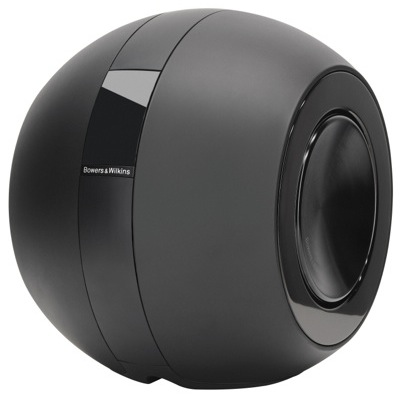 The most immediately obvious new feature of the PV1D is the incorporation of an OLED display and touch-buttons within the central band of its enclosure. The display and buttons provide access to the PV1D setup menus such as input selection, bandwidth and level adjustment, setup memories, and preset EQ options. Four preset EQ options are provided on the PV1D, each one designed to enhance either movie or music reproduction. For 2.1 stereo applications, the PV1D display interface offers the option of automatic low-pass filter configuration for selected Bowers & Wilkins main speaker models.
Also available for download is a dedicated version of SubApp. This application duplicates all the control functionality of the PV1D display interface and enables the subwoofer to be setup from the listening position using a Windows PC via a USB interface. The SubApp application also offers some advanced setup and response tuning options not available from the PV1D interface.
In common with its predecessor, the PV1D offers both line level and speaker level inputs and, save for some detail refinements and the incorporation of the display screen, the iconic "bubble" aesthetic remains unchanged.
Price and Availability
The B&W PV1D is available from March 2012 in new matte black and matte white finishes for $1,700 / £1,200.
Specifications
Technical features
Paper-Kevlar/aluminium composite diaphragm drivers
Balanced drive
Digital Signal Processing
400W Class-D amplifier
Description
Active, balanced-drive closed-box subwoofer system
Drive units
2x 200mm (8in) Paper-Kevlar/aluminium cone long-throw
Frequency range*
-6dB at 6.5Hz and 570Hz
Frequency response*
±3dB 7.5Hz – 450Hz on reference axis
Amplifier
Power output: 400W
Rated power consumption: 150W
Input impedance: 100kΩ
Signal/noise: > 100dB
Standby power consumption: < 1W
Functions
5 presets
Input sensitivity (analogue)
Gain (digital)
Low-pass filter: frequency, slope, phase
Auto on/standby
12V trigger on/standby
12V trigger preset switching
RS-232 automation control
Inputs
Stereo line in (2x RCA/Phono/Cinch)
Speaker level in (5m cable supplied)
Dimensions
Height: 342mm (13.5in) Width: 270mm (10.6in) Depth: 358mm (14.1in)
Net weight
18.7kg (41lb)
Finishes
Matte Black or Matte White
* Bass extension varies with output level due to dynamic equalization.